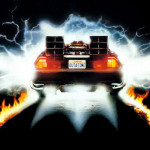 Every year, around December, I write my predictions for the next year. I love it. I sit in a room with some colleagues and brainstorm on what we think will happen next year and then I go to my crystal ball and look into the future, and just to make sure I'm not too off, I take my DeLorean and go back to the future.
Okay, so I don't really have a DeLorean (although I always wanted one) and the only thing you can see by looking into my crystal ball is, well, crystals. But reading back some of my predictions, I realized that a lot of them have been more like projections than predictions. So this year I decided to ignore the projections (i.e. SnapChat will introduce a paid model to monetize its services) and focus only on the absurd.
If any of the below predictions will come true, I'm changing my name to Nostradamus.
1. Social Influence (Klout) Gets Monetized and Advocacy Marketing (and Incentives) Take Off
It's about time that someone will come up with a financial model (and solution) that rewards social influence. Celebrities are getting paid to promote products and services on their social feed, but they have agents to handle these. In 2014, we will see the first wave of advocacy marketing solutions that connect publishers with normal people that have some level of Klout. Since referrals are one of the strongest purchase drivers, social media data should allow us to identify the mavens and incentivize them to promote our products.
2. Social TV Becomes a Reality and Real-Time Content Becomes the Norm
Reality TV have been using audience influence for more than a decade now, and recently The Voice introduced real-time voting through Twitter. With new set-top boxes like Roku, Tivo and the new wave of smart TV's like Samsung and Vizio, social is moving into TV. In 2014, we will see the first wave of real-time content influenced by social sentiment. It will start with simply allowing the audience to choose a story line, ending or character, but will morph into fully personalized watching experiences based on social profiles, interaction and behavior.
3. Social Networks Enable In-App Purchases and Introduce Shopping Carts
In a previous article, I recommended Twitter add a Click-to-Buy feature to enable users to buy products directly from within Twitter. In 2014, we will see more social networks enabling purchase options from within their applications and pages. This will mark the beginning of the in-app purchase as social networks will introduce shopping carts to allow users to mark products of interest and add them to a cart or a wishlist-like section they will later be able to source or fulfill. This type of service will give the social networks an even stronger insight into users' purchase behavior, influence and interest.
4. Social Media Automation Emerges
This prediction fringes on the projection type I mentioned before since some automation already exists. In 2014, we will see an emergence of social media marketing automation solutions. New entrants to the marketing automation space will show up with offerings around social media automation (check out Socedo for an example of such a solution) that will enable marketers to automate some of the more mundane social media tasks. For example, incorporate a Twitter DM (now that Twitter is experimenting with DMs) into the lead nurturing process, or an automated Tweet-a-Coffee when someone signs up for a demo.
5. Social Media Signals Enter Public Service Industries and Shift the Power Balance
My wife is an OBGYN; she's an excellent physician and a brilliant surgeon, but her reputation is limited to her network of patients and to the little marketing her hospital does to promote her clinic. Social media has shifted the power balance from sellers to buyers in the business and commerce sectors and it should have the same effect in the public sector as it forces its way into those services.
Image credit: The New Yorker
In 2014, we will see the public services sector embraces social media in new and innovative ways. Will it be social ratings for doctors, public officials, and police officers? Or a tweet button on an ultrasound picture of your new baby, or maybe a Tweetpic from a traffic camera posted to your feed? Whatever it will be, it's going to be awesome.
6. The First Vine Web Series Launches with No Success, Yet Signals Beginning of Social Content from the Studios
Web series are no longer a novelty, with Netflix's House of Cards winning the Emmys and more TV series publishing webisodes and web-exclusive content (The Office has done that extremely well over the years). But a vine series?
Well, in 2014, we might see the first attempt at vine-only content that will fail miserably. However, this will not be the last attempt at social-only content from the studios, as we will see them completely embrace social media as a way to give life to its characters. Twitter profiles, Facebook pages and complete online personas will be created for TV and movie characters and will be manned by marketers, writers and the actual stars, to connect audience with content in new ways.
Imagine Olivia Pop (Kerry Washington's character in Scandal) creating a website for its PR firm and posting Instagram pictures of her favorite red wine…
7. SnapChat Booms and Then Crashes
SnapChat rejected a $3B acquisition offer from Facebook and created a mass of theories, opinions and predictions about why it did so and if it was smart or simply put – crazy. In 2014, SnapChat is going to take off and become the fastest growing social network in history. It will also be the fastest to crash and burn when the flocks of teenagers that use it grow up or just find a new shiny social media network to toy with.
8. Facebook Gives Up Phone Aspirations and Instead Develops a WhatsApp-Equivalent Service
Facebook has been toying with the Facebook phone idea for a while and its attempts have so far been a massive failure. In 2014, it will completely give up on its phone aspirations and will direct its focus on creating a WhatsApp-equivalent service that will replace its mediocre messaging service.
9. Yahoo Launches a Social Media Publishing Solution to Create/Curate & Publish to All Networks
In order to compete in the social media market (and instead of trying to create a new social network), Yahoo will take a different approach and offer a service to create and curate social content (they are already acquiring talent and companies to become more of a content creation powerhouse) and publish it to all social networks, taking advantage of the growing API economy.
10. Google Tries to Acquire Twitter, Settles for a Massive Partnership and Gets Blocked by the FTC
With Apple's acquisition of Topsy, Google will again toy with the idea of buying Twitter for one of the biggest acquisition attempts in history. When these talks fail (and they will), Google will settle for a massive partnership deal that will allow them to undercut Apple. Apple will complain to the FTC, which in return will block the deal, stating that it violates the Antitrust Act.
What do you think, are any of these outrageous predictions actually in the cards? Share your own crazy thoughts about what might happen in social in 2014.
---

Introducing… ClickZ Live!
SES Conference & Expo has merged with ClickZ to bring you ClickZ Live! The new global conference series takes on the identity of the industry's premier digital marketing publication, ClickZ.com, and kicks off March 31-April 3 in New York City. Join the industry's leading tech-advertisers in the advertising capital of the world! Find out more ››
*Super Saver Rates expire Jan 24.
Continued – 
10 Outrageous Social Media Predictions for 2014 – Search Engine …