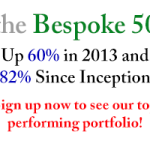 There are now just nine trading days left in 2013, so below is an updated look at the year-to-date performance (local currency) of the stock markets for 76 countries around the world.
The average year-to-date change of the 76 countries highlighted is currently just above 12%. Of the 76 countries, 57 are up (75%) in 2013 and 19 are down (25%). The UAE has posted the biggest gains YTD, while Japan is up the most of any G7 country. With a gain of 25.07%, the US ranks right up near the top of the list in 13th place. Not bad for the largest country by market cap in the world! Germany ranks third among G7 countries with a YTD gain of 19.35%, followed by France (11.74%), Italy (10.15%) and the UK (9.98%). At the bottom of the barrel in the G7 is Canada with a 2013 gain of 6.28%.
While 2013 has been a banner year for many countries, the emerging market BRICs (Brazil, Russia, India, China) have had a rough go of it. India is the best performer of the BRICs with a YTD gain of just 6.1%. The other three BRICs are in the red. China is down 5.2%, Russia is down 7.37% and Brazil is down 17.82%. Brazil ranks second-to-last behind Peru, which is down 24.09%. Brazil has two huge events in the years ahead with the World Cup in 2014 and the Summer Olympics in 2016. So far investors have done nothing but sell leading up to these events.
One of our most popular products over at Bespoke Premium is our "Bespoke 50" list of our 50 favorite growth stocks. To make the list of 50, a stock must have strong earnings growth prospects along with an attractive price chart based on Bespoke's proprietary fundamental and technical analysis.
As shown below, the Bespoke 50 is now up 82% since we created the portfolio in March 2012, and it's up 60% in 2013.
So which stocks currently make up the Bespoke 50? To find out, simply sign up for a 5-day free trial to our Bespoke Premium service. Click here to start your free trial today!
Link to original:
2013 Country Stock Market Performance – Bespoke Investment Group
See which stocks are being affected by Social Media