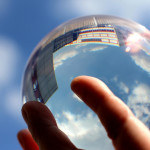 As 2014 approaches and this year comes to a close, experts are laying down their predictions. This year was full of innovations and advancements in Big Data, the cloud, Bitcoin's economy, and wearable tech.  So what does the future of the tech industry look like?
2014 Predictions : Big Data, mobile, SQL + Bitcoin
.
6 #BigData Predictions for 2014 from Jean-Luc Chatelain of Datadirect Networks
Datadirect Networks CTO and former VP & CTO Information Optimization at HP Jean-Luc Chatelain shared his Big Data predictions for 2014.  His list features how Big Data will continue to gain traction in the coming year, despite the uncertainties in this field. Big Data is faced with a future wherein the enterprise is not only dealing with more and more data, but may also become lost in this sea of data, not knowing what to do with it.
.
Good Technology CEO Christy Wyatt on security, mobility, apps in 2014
In this predictions roundup, we hear from Good Technology CEO Christy Wyatt.  The interview covered what the company plans for 2014 regarding security, mobility, and apps, and Wyatt was very eager to share how the company is staying on top of its game.  Wyatt explains that, though not everyone is interested in going mobile, the company sees this as the future of everything.  Apps are the key to making employees more mobile, and Good Technology aims to deliver security without having to miss the opportunity of going mobile.
.
Hadoop pure-play vendors face major challenges in 2014
Wikibon Principal Research Contributor Jeff Kelly discussed the challenges faced by Hadoop pure-play vendors in his recent article, "Hadoop Pure-Play Business Models Explained."  Kelly debunks misconceptions about Hadoop, how it is getting money, and what needs to happen to its distribution partners in order to foster a successful business.  Kelly explains that the challenge for 2014 is to "incentivize its partners' sales forces to sell its low-margin support services rather than more lucrative, and in some cases competing, proprietary software licenses."
.
2014 Technology Predictions Series: Xplenty on Big Data
Saggi Neumann, co-founder and CTO of Xplenty, shared his four predictions for Big Data in 2014.   Neumann predicts that as more Interactive SQL-on-Hadoop platforms flood the market, only two or three will be standardized.  He also predicted that companies will make sure solutions can be integrated with other systems, more will adopt the cloud, and that there will an increase in the demand for "as a service"platforms as people find ways to do away with the complexities and re-educating themselves in a short period of time.
.
Dr. Bitcoin on: What Happened to the Spot Price Last Night?
Bitcoin enthusiasts may be bothered by the recent price drop of Bitcoin but SiliconANGLE's Founding Editor Mark "Rizzn" Hopkins explains that the recent drop doesn't mean the cryptocurrency is over.  He explained that China's recent stand on Bitcoin may be affecting it but even if it sells all of its Bitcoins, they're not the only one investing in it.  China is just a subset of the whole Bitcoin population.  He concludes that the behavior of Bitcoin "will lead to increased stability as the ecosystem grows and more utilitarian usage as time goes by."
.
Bitcoin Weekly 2013 December 18: More Chinese market upheval, EU banking authority warning about BTC, Tor Project thumbs-up Bitcoin donations
More news about Bitcoin surfaced this week.  China's regulatory statements have caused discord in the Bitcoin community and the European Union's warning regarding its volatility isn't helping Bitcoin owners get some peace of mind.  But despite the negativities, some private companies believe that Bitcoin is the future.  The Tor Project is now accepting Bitcoins for donations.
Stay updated!  Subscribe to our weekly newsletter here
About Mellisa Tolentino
Mellisa is a staff writer for SiliconAngle, covering social and mobile news. She is fascinated by technology and loves imparting what she learns through her journey as a writer. Got a news story or tip? Send it to [email protected]

View all posts by Mellisa Tolentino
More here: 
2014 Predictions : Big Data, mobile, SQL + Bitcoin | SiliconANGLE