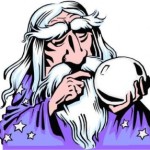 As 2013 winds down, it's only natural for people to make personal New Year's resolutions for 2014. It's also a perfect time for technology industry predictions. 
This is the fourth installation in our multi-part "Technology Predictions for 2014″ series in which industry providers—from Big Data to cloud to mobile—share their predictions about the hot tech trends that will take center stage in 2014. We'll be sharing all the predictions we've heard with you over the next several days.
Big Data in 2014
.
Big Data is a topic that we at siliconANGLE have been one step ahead of in 2013. From our written coverage on myths associated with Hadoop to theCUBE's live coverage at events such as BigDataNYC 2013 and Hadoop Summit 2013, we have been sharing with you the latest and most important developments in Big Data. So, what's in store for Big Data in 2014?
We heard four predictions for Big Data in 2014 in the first installation of our series from Saggi Neumann, co-founder and CTO of Xplenty, a cloud-based, code-free, "Hadoop as a Service" platform. In the second installation, we heard four more predictions from Quentin Gallivan, CEO of Pentaho, a provider of open-source reporting, analysis, dashboard, data mining and workflow capabilities. In the third installation, we heard seven more predictions from Steven Hillion, Chief Product Officer at Alpine Data Labs, a code-free, in-cluster web analytics platform that analyzes Big Data and Hadoop.
Here, we will hear eight predictions for Big Data in 2014 from John Schroeder, CEO and co-founder at MapR Technologies, a software provider of Hadoop technology for Big Data deployments. Schroeder shares his thoughts regarding the major developments that he believes will drive Big Data to become a must-have infrastructure for larger enterprises. The following are highlights about how the technologies are evolving and where the market is headed, according to Schroeder.
Prediction No. 1: SQL will simultaneously become the biggest promise and disappointment for Big Data. SQL development for Hadoop lets business analysts use their skills and SQL tools of choice for Big Data projects. Developers can choose from Apache projects such as Hive, Drill and Impala, and from proprietary technologies such as Hadapt, HAWQ and Splice Machine. 
But SQL requires data structure. Centrally structuring data causes delays and requires manual administration. SQL also limits the type of analysis. An over-emphasis on SQL will delay organizations that are trying to fully leverage the value of their data and delay reactions. Even back in the 1980s, companies could not keep up with the rate of new data source ingest and change when building and administering that centralized structure.
Prediction No. 2: The three top security concerns in 2014 will be authentication, authentication, authentication. With an onslaught of access control capabilities available in Hadoop, organizations will quickly realize that wire-level authentication is the required foundation. Without adequate authentication, any upper level control is easily bypassed, thwarting intended security initiatives. 
Prediction No. 3: With 2014 will come the realization that data errors are "leads for optimization." It's not data quality, but data errors that occupy organizations in 2014. Do data errors indicate issues with underlying source systems? Are data errors the result of ETL issues that are introducing biases in downstream analysis? Do data errors indicate definitional differences or a lack of consistency across departments and business segments? 2014 will see the embracing of data anomalies.
Prediction No. 4: 2014 will see the emergence of operational Hadoop. We will see a dramatic increase in production deployments of Hadoop by companies across industries. This will reveal the power of Hadoop in operations where production applications combine analytics for measureable business advantage, in applications such as customized retail recommendations, fraud detection and leveraging sensor data for prescriptive maintenance.
Prediction No. 5: The majority of data warehouse environments will deploy an enterprise data hub. 2014 will see a majority of companies deploying Hadoop to offload ETL processing and data from enterprise data warehouses, to Hadoop acting as a central enterprise hub that is 10 times cheaper—and can perform more analytics for additional processing or for new applications.
Prediction No. 6: Every industry leader will deploy a new data-centric application or they won't be leading for long.  The ability to leverage Big Data will emerge as the competitive weapon in 2014. More companies will use Big Data and Hadoop to pinpoint individual consumer's preferences for profitable upsell and cross-sell opportunities, and for better mitigated risk as well as reduced production and overhead costs.
Prediction No. 7: There will be the recognition that data is the center of the data center.  In 2014, organizations will transition from developers driving the Big Data initiatives, to increasingly tasking IT with defining the data infrastructure required to support diverse applications, focusing on the infrastructure required to deploy, process and protect an organization's core asset.
Prediction No. 8: 2014 will see search emerge as the unstructured query language. In 2013, we saw a large number of SQL initiatives for Hadoop.  2014 will be the year that the unstructured query language comes into full focus. Integrated search into Hadoop provides a simple, intuitive method for any business user to locate important information. Search engines are also the core for many discovery and analysis applications, including recommendation engines.
Stay tuned for the fifth installation of our "Technology Predictions for 2014″ series, in which we'll hear more exciting technology predictions from a top industry vendor.
Click here for the first installation, in which we heard Big Data predictions from Xplenty. 
Click here  for the second installation, in which we heard Big Data predictions from Pentaho.
Click here for the third installation, in which we heard Big Data predictions from Alpine Data Labs.
Read this article: 
2014 Technology Predictions Series: MapR Technologies on Big Data