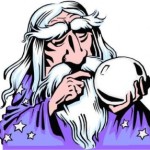 As 2013 winds down, it's only natural for people to make personal New Year's resolutions for 2014. It's also a perfect time for technology industry predictions. This is the first installation in our multi-part "Technology Predictions for 2014″ series in which industry providers—from Big Data to cloud to mobile—share their predictions about the hot tech trends that will take center stage in 2014. We'll be sharing all the predictions we've heard with you over the next several days.
Big Data in 2014
.
Big Data is a topic that we at siliconANGLE have been right on top of in 2013. From our reporters' written coverage of the people and culture of the new Big Data economy to theCUBE's live coverage at events such as BigDataNYC 2013, we have been sharing with you the latest developments in Big Data. So, what's in store for Big Data in 2014?
We asked Xplenty, a cloud-based, code-free, "Hadoop as a Service" platform to share their predictions. Saggi Neumann, co-founder and CTO of Xplenty, has four predictions for Big Data in 2014.
Prediction No. 1: Interactive SQL-on-Hadoop platforms are flooding the market. Two or three will become the standard. The others will fall by the wayside.
Prediction No. 2: With so many technologies coming out, companies will be forced to make sure their solutions can be integrated with many other systems or risk not being used.
Prediction No. 3: More businesses will do their processing on the cloud; this is where they will truly see how elastic their systems can be. Plus, the implementation of yarn in Hadoop 2.0 will allow for the utilization of more resources and a push towards multi-tenancy. Those that follow this trend will see how cost-effective the cloud is. They will be able to further streamline their budgets and either save that money or re-route it toward other new technologies.
Prediction No. 4: Hadoop's technology is getting more and more complicated. Tons of new projects are coming out of incubation, many APIsand many platforms. As a result, people cannot keep up with it. In 2014, users will be looking for ways to abstract away all the complexities so that they will be able to just solve their issues—without having to re-educate themselves in a short period of time. This will increase the demand for "as a service" platforms.
Click here for the second installation of our "Technology Predictions for 2014″ series, in which we hear more Big Data predictions from Pentaho, a provider of open-source reporting, analysis, dashboard, data mining and workflow capabilities.
About Suzanne Kattau
Suzanne Kattau is a writer for SiliconAngle covering the enterprise cloud space. If you have a story idea or news tip, please send it to @SuzanneKattau on Twitter or via email at [email protected]

View all posts by Suzanne Kattau
Read this article:  
2014 Technology Predictions Series: Xplenty on Big Data …