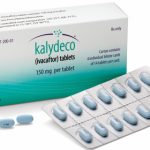 "Our life is March weather, savage and serene in one hour." — Ralph Waldo Emerson
Substitute "biotechs" for "our life" and you have the investing version of Emerson's quote. Depending on how binary events go, they can certainly become savage or serene quite quickly.
We asked our team of experts for their top biotech picks to watch this month. Read below to find out why they like Vertex Pharmaceuticals , Neuralstem , ;and Intercept Pharmaceuticals ;.
Brian Orelli : If you're looking for a biotech with upcoming catalysts, look no further than Vertex Pharmaceuticals. The company is developing serveral drugs for cystic fibrosis, and it expects clinical trial data and an expanded label this month, ;and there's potential for Food and Drug Administration approval for a separate drug combination soon.
Source: Vertex Pharmaceuticals.
Cystic fibrosis is caused by different mutations that need to be treated with different drugs. Vertex's Kalydeco is already approved to treat patients with the G551D and other gating mutations in patients age 6 or older, and it's up for approval to expand the indication to children as young as 2. Vertex should hear from the FDA about the incremental increase on or before March 17.
This month, Vertex also expects to release data from a phase 2 trial testing a combination of VX-661 ;and Kalydeco in patients with a different mutation called F508del. With a relatively small trial and seven different treatment groups, it might be hard to interpret how well the drug is really working. But management must think the data is good enough because Vertex has already started a phase 3 program with the combination.
VX-661 is actually a second-generation drug. The FDA is already reviewing Vertex's application to market the first-generation drug, lumacaftor, in combination with Kalydeco in patients with the F508del mutation. The agency is supposed to make a ruling on or before July 5, but considering the unmet need, we could get an early FDA approval, making Vertex a company investors will definitely want to keep an eye on.
: One of the most exciting things about investing in biotech stocks is discovering companies that are working on what could truly be game-changing therapeutics.
One of those companies is ;Neuralstem, a clinical-stage small-cap biotech that is researching a stem cell treatments for ALS. This nervous-system affliction (also known as Lou Gehrig's Disease) can be devastating, but there are currently no FDA-approved treatments that target the disease directly. Neuralstem hopes to change that.
The company treated the final ALS patient in its NSI-566 phase 2 trial last summer, and results from that study are expected soon. This is unquestionably a binary event: If the midstage trial succeeded, then it could mark a major advance in patient treatment; if it failed, then shares will likely fall significantly. As a result, investors should approach this high-risk play with caution. In fact, it might be better to wait for the results before jumping in. Although something could later derail the drug in phase 3, a positive phase 2 result could mean this one is worth a little risk.
Dan Caplinger : My pick in the biotech realm is ;Intercept Pharmaceuticals, which has made a name for itself with its obeticholic acid treatment for liver disease. For more than a year now, excitement in the stock has run high, with early and midstage clinical trials suggesting possible treatment indications for primary biliary cirrhosis and nonalcoholic steatohepatitis, also known as NASH. The stock's most recent rise was sparked by the January announcement that Intercept had received breakthrough therapy status from the FDA for using obeticholic acid to treat NASH. With the incidence of NASH on the rise, new treatment options come at a premium.
Intercept has far to go before it can expect full FDA approval for its NASH treatment, with the company still planning a phase 3 trial. But with plans to submit a marketing application to U.S. and European regulators in the first half of this year for obeticholic acid to treat primary biliary cirrhosis, Intercept will have plenty of catalysts in the coming months to lift its shares back toward their 2014 highs. Add in the rise in mergers and acquisitions interest in the biotech space lately, and Intercept has even more promise to provide positive returns to shareholders in 2015 and beyond.
This coming blockbuster will make every biotech jealous
The best biotech investors consistently reap gigantic profits by recognizing true potential earlier and more accurately than anyone else. Let me cut right to the chase. There is a product in development that could revolutionize not just how we treat a common chronic illness, but potentially the entire health industry. Analysts are already licking their chops at the sales potential. If you hope to outsmart Wall Street and realize multi-bagger returns you will need to get in early — check out The Motley Fool's new free report on the dream-team responsible for this game-changing blockbuster. CLICK HERE NOW .
The article 3 Biotech Stocks to Buy in March originally appeared on Fool.com.
Brian Orelli , Dan Caplinger , ;and Todd Campbell have no position in any stocks mentioned. The Motley Fool recommends Vertex Pharmaceuticals. Try any of our Foolish newsletter services free for 30 days . We Fools may not all hold the same opinions, but we all believe that considering a diverse range of insights makes us better investors. The Motley Fool has a disclosure policy .
Copyright © 1995 – 2015 The Motley Fool, LLC. All rights reserved. The Motley Fool has a disclosure policy .
The views and opinions expressed herein are the views and opinions of the author and do not necessarily reflect those of The NASDAQ OMX Group, Inc.
Originally from: 
3 Biotech Stocks to Buy in March