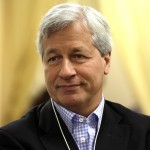 Bloomberg
Jamie Dimon, CEO of J.P. Morgan
J.P. Morgan Chase CEO Jamie Dimon made waves last week, calling out the regulatory environment for banks as downright un-American.
That kind of bluster is old hat for the top bank exec. Dimon was quick to position himself as the chief critic of bank regulation even as J.P. Morgan's JPM, +0.32%  peers Bank of America BAC, +0.98% and Citigroup C, +1.02% barely limped out of the financial crisis intact. Remember back in 2009, with the ink barely dry on TARP checks the government had mailed out to financial institutions around the U.S., Dimon was warning against too much bureaucracy and regulation.
The topic of banking, regulation and bailouts remains a contentious one for Americans. Are big banks a crucial part of our system of capital, or are they inherently corrupt opportunists just out to make a buck? Were the bailouts necessary to ensure stability of our economic system, or just another handout from politicians to their cronies on Wall Street?
As an investor, I have a limited interest in past transgressions of the big banks and reactionary blog posts. I am much more interested in how I can make money in the sector in 2015 and beyond.
So if you're prepared to be agnostic about the political or philosophical motivations about those firms and focus instead on whether they will make you money, here are three companies in the financial sector that I think are worth buying now:
MetLife
Investing icon Warren Buffett has long been a believer in insurance companies as a core holding of Berkshire Hathaway BRK.B, -0.98% The "float" from premiums paid before any claims are paid out provide stability as well as access to reliable dividends.
And if interest rates do start to move higher in late 2015 and into 2016, the interest earned on this float will improve nicely.
For this reason alone, insurance companies should have a place in every long-term portfolio. But MetLife Inc. MET, +1.09%  in specific, has a lot to offer right now.
For starters, consider the demographic tailwind of the aging Baby Boomer population in the U.S., and that MetLife is the top U.S. life insurance company by a number of measures. Now consider that MetLife is also a top player in the annuity business, which has come into favor big-time with older Americans hungry for income but disappointed with interest bearing assets.
Throw in some acquisitions to strengthen its grip in recent years, include a fire-sale purchase of some American International Group AIG, +0.36% assets in 2010 after the toxic financial company was bailed out by the U.S. government, and MetLife clearly has the scale and stability investors need in 2015 amid a choppy market.
MetLife stock pays a good 2.9% yield, but even more attractive is its history of dividend growth; MetLife stock pays $1.40 per share in annual dividends now, up almost three-fold from 52 cents in 2005. And when you consider that forecasts are for MetLife to finish fiscal 2014 with $5.80 in earnings per share — putting those dividends at about 24% of total profits — there is certainly potential for future dividend increases in the years ahead.
Read More:
3 financial stocks that will soon be trading at higher prices …