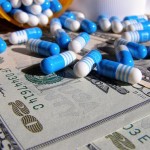 Source: Flickr user stockmonkeys.com .
The pop-and-drop nature of the biotech industry makes owning stocks in the sector particularly dicey. But for investors willing to take on the risk of failure, a number of intriguing small-cap biotech companies are working on important new therapies that could make a big impact on patients' lives and investors' wallets. Here are three of thesecompanies.
No. 1: Portola Pharmaceuticals
A major shift in standard of care is occurring in the treatment of heart disease and post-operative patients. For decades, doctors relied on warfarin to keep blood from clotting in these patients, but a new class of Factor Xa inhibitors is quickly displacing warfarin's long-standing dominance. Those drugs include Xarelto from Johnson & Johnson  and Eliquis from Bristol-Myers Squibb and Pfizer  . Although sales of Xarelto jumped 76% last year to $1.5 billion, and sales of Eliquis surged from $71 million in fourth-quarter 2013 to$281 million in fourth-quarter 2014, these drugs have one big problem: they lack an antidote. That means doctors have few good options for reversing their effect in the event of emergency surgery or a bleeding situation. However, that could soon change.
Portola is developing andexanet alfa, a Factor Xa reversal agent that is so promising that, despite Portola retaining all rights to the drug, Johnson & Johnson, Bristol-Myers, and Pfizer are helping fund its research. So far, it appears to be money well spent. In November, Portola reported phase 3 trial results showing andexanet alfa effectively reversed Eliquis, and in January the company reported similar success in reversing Xarelto in a phase 3 trial. Since demand for factor Xa drugs is climbing, and 2% to 5% of patients who receive them could suffer events requiring treatment by andexant alfa, Portola should find a willing market for its product — if it can win FDA approval. To support its efforts for accelerated Food and Drug Administration approval, Portola is conducting a phase 4 trial that, if successful, should give it the data necessary to file for approval by the end of this year.
No. 2: Ophthotech
The aging baby boomer population means demand for drugs that reverse age-related vision loss should rise significantly in coming years. Novartis ' Lucentis and Regeneron 's Eylea, which are approved to treat wet state, age-related macular degeneration, are already top sellers , with Novartis and partner Roche garnering$4 billion in Lucentis sales per year and Regeneron and partner Bayer  collecting $2.8 billion annually in Eylea sales .
Ophthotech is developing Fovista to be used alongside these drugs. In a phase 2b trial reported last year, patients receiving Fovista and Lucentis saw their vision improve to 10.6 letters on a standard eye chart, versus just a 6.5-letter improvement when taking Lucentis alone. The results were good enough to prompt Novartis to ink a deal that could be worth up to $1 billion in up-front and milestone money to Ophthotech in exchange for rights to market Fovista abroad. Ophthotech has retained U.S. rights (so far) and is conducting additional phase 3 trials it hopes will prove Fovista is equally effective when used alongside Eylea. Results from those trials are expected in 2016.
No. 3: Achillion Pharmaceuticals
Gilead Sciences has shown that developing new, more effective treatments for hepatitis C is very profit-friendly. The company's Sovaldi, which launched in December 2013, generated more than $8.5 billion in sales during the first nine months of 2014 alone. Sovaldi's success — and the expected success of Gilead's next-generation drug Harvoni, a combination of Sovaldi and ledipasvir, and AbbVie 's competing Viekira Pak — suggest Achillion could eventually have a winner on its hands, too.
Achillion is developing ACH-3102, a drug that targets the same NS5A protein that Gilead Sciences' ledipasvir targets. Harvoni is only approved for use in a shorter eight-week treatment cycle (as opposed to the traditional 12-week cycle) for about 45% of hepatitis C genotype 1 patients, while small midstage trials suggest combining Sovaldi with ACH-3102 could be effective for most patients over a treatment course as short as six weeks . Achillion is also developing its own Sovaldi alternative, which could eventually be paired with ACH-3102. If Achillion can deliver functional cure rates over a shorter treatment period, it could eventually carve out a healthy chunk of market share, or convince a larger player to acquire it.
Question marks remain
Although these three companies have intriguing catalysts that could propel shares higher this year, each is also an emerging-stage biotech without any products yet on the market. That means trial failures could significantly derail their businesses and cause share price to tumble. Given that backdrop, these companies are best suited to investors who can handle the potential risk of a failure.
This coming blockbuster will make every biotech jealous
The best biotech investors consistently reap gigantic profits by recognizing true potential earlier and more accurately than anyone else. Let me cut right to the chase. There is a product in development that could revolutionize not just how we treat a common chronic illness, but potentially the entire health industry. Analysts are already licking their chops at the sales potential. If you hope to outsmart Wall Street and realize multi-bagger returns you will need to get in early — check out The Motley Fool's new free report on the dream-team responsible for this game-changing blockbuster. CLICK HERE NOW .
The article 3 Small-Cap Biotech Stocks That Could Be Top Stocks in 2015 originally appeared on Fool.com.
Todd Campbell owns shares of Gilead Sciences, Portola, Ophthotech, and Achillion. Todd owns E.B. Capital Markets, LLC. E.B. Capital's institutional clients may or may not have positions in the companies mentioned. Legal beagles won't let me ask them or let them tell me. The Motley Fool recommends Gilead Sciences and Johnson & Johnson. The Motley Fool owns shares of Gilead Sciences and Johnson & Johnson. Try any of our Foolish newsletter services free for 30 days . We Fools may not all hold the same opinions, but we all believe that considering a diverse range of insights makes us better investors. The Motley Fool has a disclosure policy .
Copyright © 1995 – 2015 The Motley Fool, LLC. All rights reserved. The Motley Fool has a disclosure policy .
The views and opinions expressed herein are the views and opinions of the author and do not necessarily reflect those of The NASDAQ OMX Group, Inc.
Continue reading here – 
3 Small-Cap Biotech Stocks That Could Be Top Stocks in 2015