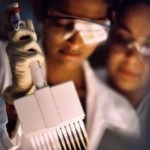 Biotech stocks can often make big moves after reporting trial data, but it's FDA drug approvals or denials that can really make stocks in the industry pop or drop. For that reason, we asked three Motley Fool experts what FDA decisions they're most excited about. Read on to learn which three companies and drugs are on their radar.
Source: Celgene Corporation.
: It's not often that a top-selling blockbuster drug can have an opportunity to see its sales grow dramatically, but that's exactly what could happen to Celgene Corporation 's  multiple myeloma drug Revlimid if the FDA grants approval for its use as a first-line treatment this month.
Revlimid is already selling at a $5 billion annualized clip, but that success stems from its market share leadership as a second-line multiple myeloma drug. If the FDA approves Revlimid for newly diagnosed patients, revenue could march handily higher this year. Although the FDA could always decide to say no, results during phase 3 trials seem to indicate that the FDA will say yes. In those trials, Celgene reported that there was nearly a 30% reduction in risk of disease progression or death in patients treated with Revlimid and dexamethasone versus the control arm.
If the FDA does grant Celgene approval to market Revlimid as a first-line therapy, chances are that Celgene will have a better shot at hitting its targets of Revlimid sales of between $5.6 billion and $5.7 billion this year and Revlimid sales of $7 billion by 2017. That suggests that investors should keep a close eye on the FDA on Feb. 22, the date on which the agency is set to make its decision.
: Regeneron Pharmaceuticals, Inc . is looking to get sales of its flagship drug Eylea soaring again by seizing yet another FDA approval. On track for the FDA nod is the use of Eylea for diabetic retinopathy. March 30 is the FDA's target action date, but the decision could well come sooner, since the FDA has been churning out approvals rapidly of late, and the eye injection drug is on the priority review pathway.
R&D powerhouse Regeneron holds exclusive rights to Eylea in the U.S., but shares its global profits with co-developer Bayer AG . While I'm excited about this decision, I'm also hoping there's no delay. Breathing down Regeneron's neck is Roche Holdings , whose competing drug, Lucentis, is also up for FDA approval  for diabetic retinopathy.
The good news is that the FDA blessing seems likely. In the drug's phase 3 study, it significantly increased reading ability in retinopathy patients. Vision improved by two lines on an eye chart, after only one year of treatment.
In addition, there's no question this drug is needed. Diabetic retinopathy is a leading cause  of blindness in working-age adults. While Eylea is already approved for diabetic macular edema, retinopathy is much more common, with 7.7 million cases diagnosed, and no approved treatment.
Regeneron has drugs in its pipeline for treating high cholesterol, eczema , and rheumatoid arthritis, all of which could represent stock price-igniting opportunities. But Eylea is the company's standout. And with such a large market in retinopathy, this approval could eventually light a fire under Eylea's sales. That would be good news indeed, since Eylea's revenues have been lagging of late in the U.S., at $445 million during Q3, around $16 million less than expectations.
Brian Orelli : Vertex Pharmaceuticals   has a couple of FDA decisions coming up, with radically different potentials to increase the biotech's revenue.
First, the agency is expected to rule by March 17 on expanding the use of Vertex's cystic fibrosis drug, Kalydeco, to treat children ages 2 to 5 who have the G551D or one of the eight additional gating mutations.
Kalydeco is already on the market for patients 6 and older with those same mutations. In all of North America, Europe, and Australia, Vertex estimates there are only 2,600 cystic fibrosis patients with the mutations, so this particular expansion isn't going to move the revenue needle much.
Vertex's lumacaftor combined with Kalydeco, on the other hand, will have a major effect on revenue. The company estimates there are 8,500 people in the U.S. alone age 12 and up with the F508del mutation that responds to the combination treatment. With the FDA approval, Vertex will quadruple the number of cystic fibrosis patients it can treat even before adding in an EU approval that should come toward the end of the year.
The FDA has a goal of making a decision on the combination treatment by July 5, but if you're looking to buy ahead of the decision, I wouldn't wait too long. When Kalydeco was first approved in 2012, the FDA made its decision two and half months before its PDUFA goal date.
This coming blockbuster will make every biotech jealous
The best biotech investors consistently reap gigantic profits by recognizing true potential earlier and more accurately than anyone else. Let me cut right to the chase. There is a product in development that could revolutionize not just how we treat a common chronic illness, but potentially the entire health industry. Analysts are already licking their chops at the sales potential. If you hope to outsmart Wall Street and realize multi-bagger returns you will need to get in early — check out The Motley Fool's new free report on the dream-team responsible for this game-changing blockbuster. CLICK HERE NOW .
The article 3 Upcoming FDA Decisions We're Most Excited About originally appeared on Fool.com.
Brian Orelli has no position in any stocks mentioned. Cheryl Swanson owns shares of Celgene. Todd Campbell is long Celgene. The Motley Fool recommends Celgene and Vertex Pharmaceuticals. Try any of our Foolish newsletter services free for 30 days . We Fools may not all hold the same opinions, but we all believe that considering a diverse range of insights makes us better investors. The Motley Fool has a disclosure policy .
Copyright © 1995 – 2015 The Motley Fool, LLC. All rights reserved. The Motley Fool has a disclosure policy .
The views and opinions expressed herein are the views and opinions of the author and do not necessarily reflect those of The NASDAQ OMX Group, Inc.
Original article:
3 Upcoming FDA Decisions We're Most Excited About