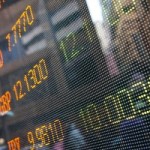 Whether it's ordering a late-night pizza or booking a holiday getaway, we can do countless tasks that once required phone conversations or face-to-face interactions online. Trading stocks is no exception. There are many websites where we can sell and buy stocks.  If you're new to trading take Stock Market for Dummies: Learn to Trade before deciding which one to make your go-to site.
You may already know the basics of selling and buying stocks, but there are still important features to consider before committing to a stock trading website.  The fee associated with each transaction or commission is very important to keep in mind as well as the minimum account size needed to start or continue using a site.  The best sites will offer resources, like third-party analyst reports and real-time charts, and investment options for retirement or education.  Low fees or commissions and these convenient features combined with accessible customer support and easy-to-navigate platforms make the best trading sites. Below are some competitive sites for trading stocks; some are strong choices for trading options or currencies tool.
ETrade Financial
At the end of last year, ETrade Financial boosted nearly 3 million brokerage accounts. It's a popular choice for millions of people for several reasons.  ETrade Financial was With ETrade Financial, all you need is $500 in your account to begin trading. Commissions for trades and options are under $9.99.  This platform is easy to use, but its mobile initiatives separate it from competitors. Stockbrokers.com ranked it first in mobile trading for 2013.  Its mobile application focuses on investor education and offers tools like CNBC-TV and third-party research reports.
TradeKing
Less mobile-focused, TradeKing offers a more affordable option to investors.  There's no minimum needed to open an account, and TradeKing charges just $4.95 for stock trades. This online broker also offers high-quality research and analysis tools to its users.  On TradeKing, traders can interact with their peers and learn from others' performances. Along with the TradeKing's other qualities, this earned it the distinction of Most Innovative Broker in 2013 from stockbrokers.com.
OptionsXpress
Like TradeKing, OptionsXpress requires no minimum amount to open an account, but it does come with steeper fees. A commision for a stock trade cost $8.95. You can also trade currencies through the foreign exchange market forex on OptionsXpress and face no extra fees. Before you begin dealing with currencies, learn the ins and outs  and enroll in FOREX The Complete Trading System.  For those who appreciate expert help in trading, OptionsXpress offers another advantage. It charges no broker-assisted order fees. On TD Ameritrade, going to a professional broker for assistance with a trade costs $44.99.
TD Ameritrade
Despite it's high fee for broker-assisted orders, TD Ameritrade is still a strong choice for stock trading.  It offers its traders Wall-Street and hedge-fund quality analytical tools such as a customizable workspace and real-time or Level II quotes. Like OptionsXpress, there are affordable options for trading currency too.  It charges a commission of $9.99 per trade, and there's no minimum needed to open an account.  However, a $2,000 deposit is required for certain opportunities, like margin or options privileges.
OptionsHouse
OptionsHouse boosts low commission rates. It charges just $4.75 per stock trade, and there's no minimum amount needed to open an account. Like TD Ameritrade, it requires $2,000 in order to receive margin advantages.  With 14-days of free investment coaching to funded customers, it's a strong choice for those looking to trade stocks, but it also focuses on providing value-based options trading. Contract fees for options trading are 5 for $5 or a base rate of $8.50 plus $.15 per contract.  Options are complex securities and trading them involves substantial risk. So before you take advantage of these low rates, improve your options trading skills with Winning Options Trading System: Trade Better.
Closing Points
If you're looking to trade stocks online, take the time to evaluate which site will best serve your needs.  When judging the importance of the commission rates charged or education resources offered, think about how many trades you expect to make per quarter and your trading experience level.  Don't forget to explore the current promotions current brokers are offering. For instance, if you open an account with TD Ameritrade with at least $2,000, you receive 60 days of commission-free trade right now.
Once you decide which site to make your stock trading platform, learn how to excel in the stock market by studying how some amateurs became successful traders with Trading: How Transformative Learning Drives Expertise.
Original source:
5 Best Stock Trading Sites – Udemy
See which stocks are being affected by Social Media