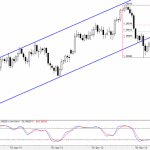 Posted on noviembre 27th, 2013 in
,
,
,
EUR/USD still tries to pull back to the former price channel
Price action for the EUR/USD has been interesting in recent weeks. The latest rebound is taking the currency pair to test the bottom of a bullish… >>
EUR/JPY: Flirting with the 2009
A price chart shows how the EUR/JPY has no resistance levels until the 2009 high of 139.22. A move above this high could trigger further gains…
GBP/USD: This could be it
The weekly close is approaching and the feeling is that the GBP/USD could finally close above 1.6260. We have seen a bullish gap filled and…
AUD/USD: The Weekly trendline coming in at 9000 should hold
Aussie upped and died yesterday…failing to get to the sell area of 9225 and falling through lower to our 76.4 Med term support at 9095 posting…
USD/CHF: No higher low yet
MIG Bank – USD/CHF has moved lower than its recent low at 0.9062 (25/11/2013 low), reflecting persistent selling pressures. A support stands…
USD/JPY determined to take out highs
There was a slight decline for the USD/JPY yesterday but it was just a minimal correction following continuous gains. We could see a deeper…
USD/CHF: Well suported between 9060 and 9045
Charmer Charts – Usd/Chf is trading towards the bottom of the channel line evident at 9045….So between 9060 and 9045 we would expect the Usd/Chf…
EUR/USD Chart:
Share and Enjoy:








Si te gusta este post, puedes subscribirte a nuestro RSS!
No related posts.
Related posts brought to you by Yet Another Related Posts Plugin.
See the original post: 
About Forex » Forex technical analysis for the EURUSD, GBPUSD …
See which stocks are being affected by Social Media