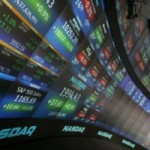 Apple is the biggest tech company in the world and one of the most tradable. And that's mostly because Apple is subject to a constant barage of events, both newsworthy and malicious. But also because Apple stock is one of the most widely held and traded stocks on the planet.
When it comes to liquidity and tight spreads, there are few stocks as attractive as Apple. And if you want action, Apple will bring it, with great daily, weekly and monthly range. From an options trader's point of view, Apple is a perfect storm of high price and changing volatility.
Ok, enough about how well the stock moves, there's also all the binary events we have to look forward to, that present fantastic opportunities to play rising volatility; like earnings, product announcements, competitive product announcements, analyst calls and investor notes. On average there is one such an event about every two weeks.
Apple has monthly, weekly and mini options, so any account size can participate. But don't discount trading Apple stock, because even though it is high priced, it moves, really moves, so even a small trader can make pretty darn good money with small positions of 10, 20 or 30 shares, especially since most brokers provide two times margin, some as much as four times margin.
Now onto the strategies. There are seven in all. If you would like details on each of the strategies, contact me here.
The first two strategies I discovered several years ago while doing an exhaustive price distribution study on Apple, looking at trends with closing prices on various days and also trends that spanned ranges of days. I also looked at calendar events, holidays, earnings and seasonal events. There was a great deal to discover, some of it quite interesting and tradable.
This led to a weeklies strategy that I employed with great success. I dropped the strategy after Steve Jobs died…but I don't recall if there was a specific reason for doing so. Perhaps more out of morning than anything else.
This past summer I decided to pick up the trade again, but wanted to find out if it was still viable, so I asked a member of the trade room to help me with a similar study and found that the patterns still existed, and in fact were quite strong, so I wrote an automated system that would signal when these trades presented themselves. That led to two trading systems:
Over the Week end (OTW)
Into Friday Expiration (IFE)
These two trades are like clock work. They represent occur almost every week and are easily traded using stocks or options. The IFE trade is a short-only trade, while the OTW trade is long-only. The systems I created filter out less desirable conditions, improving the win rates significantly, but also subtract many trades. For example, there have been instances this past year, where there were no trades for two weeks straight. But that's Ok, because the improved win rate and P&L is more than worth it.
The next trade is the Binary Event Trade, or BET. This is a volatility trade that occurs anytime there a binary event like earnings or product announcements. The idea is to take advantage of the increasing volatility in Apple stock as the event approaches.
The fourth trade is the inverse of the Binary event, I call it the Aftermath Trade (AT). This trade is also put on before the binary event, nut is held through the event, looking for a phenomenon called volatility crush. This trade makes earnings a welcome event, because we make money regardless of which way the stock moves.
The fifth trade is an old standby, and that's the Apple Covered Call, or ACC trade. This is a relatively complex trade, lots of nuances, that aims to reduce the cost basis of the underlying for the purpose of accumulating…not the stock, but LEAPS. However we are modifying this trade some, to include accumulating stock for its dividend earning potential.
The sixth trade I call the Squeeze the Juice (STJ) trade, and this trade can happen at any time that Apple's volatility rank is above 50 percent. That's the relative volatility level compared to the previous 52 week range. It is a theta collection strategy using a 2 standard deviation wide spread that has a very high win rate and impressive return on capital.
The seventh trade is very special, based on the Elliot Wave principle, and named after a famed Elliotician. This trade can often overlap the other trades, and if it presents a conflict then it takes precedence. This trade is opportunistic, and can occur several times in a year, but when it does, it can result in significant gains.
Ok, that's the seven trades. There are many more, but I chose these trades because of the exceptionally high win rate, and remarkable returns you can expect on the capital you put to work. There's no doubt in my mind that a person could make a handsome living trading Apple with these seven strategies. I have.
I have documented all these trades and I'm putting them together in a comprehensive Step-by-Step course, that I'll be offering very soon. The course will also offer live support. If you would like me to inform you when the course will be made available, just send me an email or signup using the form below.
<![CDATA[
#af-form-1062780867 .af-body .af-textWrapwidth:98%;display:block;float:none;
#af-form-1062780867 .af-body input.text, #af-form-1062780867 .af-body textareabackground-color:#FFFFFF;border-color:#919191;border-width:1px;border-style:solid;color:#000000;text-decoration:none;font-style:normal;font-weight:normal;font-size:12px;font-family:Verdana, sans-serif;
#af-form-1062780867 .af-body input.text:focus, #af-form-1062780867 .af-body textarea:focusbackground-color:#FFFAD6;border-color:#030303;border-width:1px;border-style:solid;
#af-form-1062780867 .af-body label.previewLabeldisplay:block;float:none;text-align:left;width:auto;color:#000000;text-decoration:none;font-style:normal;font-weight:normal;font-size:12px;font-family:Verdana, sans-serif;
#af-form-1062780867 .af-bodypadding-bottom:15px;padding-top:15px;background-repeat:no-repeat;background-position:inherit;background-image:none;color:#000000;font-size:11px;font-family:Verdana, sans-serif;
#af-form-1062780867 .af-quirksModepadding-right:15px;padding-left:15px;
#af-form-1062780867 .af-standards .af-elementpadding-right:15px;padding-left:15px;
#af-form-1062780867 .buttonContainer input.submitbackground-image:url("http://forms.aweber.com/images/auto/gradient/button/07c.png");background-position:top left;background-repeat:repeat-x;background-color:#0057ac;border:1px solid #0057ac;color:#FFFFFF;text-decoration:none;font-style:normal;font-weight:normal;font-size:14px;font-family:Verdana, sans-serif;
#af-form-1062780867 .buttonContainer input.submitwidth:auto;
#af-form-1062780867 .buttonContainertext-align:right;
#af-form-1062780867 button,#af-form-1062780867 input,#af-form-1062780867 submit,#af-form-1062780867 textarea,#af-form-1062780867 select,#af-form-1062780867 label,#af-form-1062780867 optgroup,#af-form-1062780867 optionfloat:none;position:static;margin:0;
#af-form-1062780867 divmargin:0;
#af-form-1062780867 form,#af-form-1062780867 textarea,.af-form-wrapper,.af-form-close-button,#af-form-1062780867 imgfloat:none;color:inherit;position:static;background-color:none;border:none;margin:0;padding:0;
#af-form-1062780867 input,#af-form-1062780867 button,#af-form-1062780867 textarea,#af-form-1062780867 selectfont-size:100%;
#af-form-1062780867 select,#af-form-1062780867 label,#af-form-1062780867 optgroup,#af-form-1062780867 optionpadding:0;
#af-form-1062780867,#af-form-1062780867 .quirksModewidth:225px;
#af-form-1062780867.af-quirksModeoverflow-x:hidden;
#af-form-1062780867background-color:#F0F0F0;border-color:#CFCFCF;border-width:1px;border-style:solid;
#af-form-1062780867display:block;
#af-form-1062780867overflow:hidden;
.af-body .af-textWraptext-align:left;
.af-body input.imageborder:none!important;
.af-body input.submit,.af-body input.image,.af-form .af-element input.buttonfloat:none!important;
.af-body input.textwidth:100%;float:none;padding:2px!important;
.af-body.af-standards input.submitpadding:4px 12px;
.af-clearclear:both;
.af-element labeltext-align:left;display:block;float:left;
.af-elementpadding:5px 0;
.af-form-wrappertext-indent:0;
.af-formtext-align:left;margin:auto;
.af-quirksMode .af-elementpadding-left:0!important;padding-right:0!important;
.lbl-right .af-element labeltext-align:right;
body
]]>
Apple investors want to know what you think, comment below…
Tagged with →AAPL
•
•
Original source: 
AppleInvestor | How To Make a Living Trading Apple Using Seven …
See which stocks are being affected by Social Media