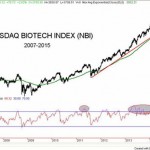 news.goldseek.com / By David Chapman / 23 April 2015
Are Biotech stocks in a bubble? This is a question that is being asked. According to an article by Bloomberg (Biotech Index in Nosebleed Territory – Up 500% In 4-years, Trades At 10X Revenues – Bloomberg Business, March 8, 2015) the 269 Biotech companies that are listed on the NASDAQ are up more than 500% in the past four years. The Biotech companies have the biggest weighting on the NASDAQ at 11.2%.
A 500% gain is impressive. The NASDAQ Biotechnology Index (NBI) is up a more modest 338%. The TSX Health Care Index (THC) is up an even more modest 187% in the same period.  It appears that some of the really high flyers are not even in the NBI. As to the THC, it has been led primarily by one stock – Valeant Pharmaceutical (VRX-TSX). VRX is up 665% in the same period.
So are the Biotech stocks in a bubble? They certainly could be. The NBI according to the Bloomberg article trades at 10 times its annual sales vs. 2.3 times for the broader index. Driving the market higher has been a huge number of blockbuster initial public offerings (IPOs) and instant multi-billion dollar market valuations for companies that don't even have products for sale. Sounds like the internet and high tech companies of the late 1990's. There have also been mergers that have helped push the index higher. The fact that there has been considerable advancement in scientific achievements in the Biotech sphere has been a key driver for the industry.
If Biotech is in a bubble the warning is that bubbles usually end badly. Three of the most famous early bubbles all ended in complete ruin for their investors. The big three all mentioned in Charles McKay's definitive history of early bubbles Extraordinary Popular Delusions and the Madness of Crowds (1841). The big three are Tulipmania (1634-1638), the Mississippi Bubble (1719-1720) and the South Sea Bubble (1720). The famous bubbles of the 20th century have been the bull market of the roaring twenties (1924-1929), the Japanese bubble (1984-1989), the gold bubble 1976-1980 and the NASDAQ high tech/internet bubble (1995-2000).
So how big of bubble were those 20th century bubbles? The roaring twenties saw the Dow Jones Industrials (DJI) rise 337%. The crash that followed that gain saw the DJI fall 89%. It took the DJI 25 years before it took out the 1929 high. The Japanese bubble saw the Tokyo Nikkei Dow (TNA) rise 301%. The crash followed that gain saw the TNA fall 64% over the next two years. 25 years later the TNA is still down 49% and at its lowest point the TNA was down 80%.
The post Are Biotech Stocks in a Bubble? appeared first on Silver For The People.
Link:
Are Biotech Stocks in a Bubble?
See which stocks are being affected by Social Media