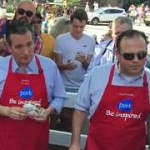 ABC News screenshotThe Dow Jones Industrial Average plummeted 500 points on Friday.
Actress Ellen Page, who came out as gay last year, ambushed Ted Cruz at the Iowa State Fair. They argued about gay issues.
Dr. Dre issued an apology for abusing women, a fact of his life glossed over in the new movie, Straight Outta Compton.
President Obama's political legacy is ugly, claims POLITICO.
Sorry, just one Trump-related item today.
Potentially bad news for Carly Fiorina.
New at Reason
Public Morals Approaches Vice Squad Drama with Authenticity in Mind
Ed Burns' new TNT show avoids Hollywood-style excesses, by Glenn Garvin
Operation Choke Point: The Government's Covert War on Small Business
A program meant to stamp out fraud has put a stranglehold on legitimate industries, by Zach Weissmueller
Follow us on Facebook and Twitter, and don't forget to sign up for Reason's daily updates for more content.
Robby Soave is a staff editor at Reason.com.
Media Contact Reprint Requests
Tumblr
Blogger
StumbleUpon
Digg
Delicious
Reddit
Google
Linkedin
Kindle
Link: 
Bad Day at the Stock Market, Ellen Page vs. Ted Cruz, Dr. Dre Is …