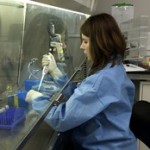 By Ben Levisohn
Leerink's Howard Liang and team think 2015 will be another good year for biotech stocks like Gilead Sciences (GILD), Celgene (CELG), Amgen (AMGN ) and Alexion Pharmaceuticals (ALXN). They explain why:
Boston Globe via Getty Images
Biotech fundamentals appear strong, and could attract and broaden investor interest in the sector. Ongoing and upcoming product launches could be among the fastest in history. Data releases and M&A both still provide ample opportunities for upside…

The fundamentals of the biotech industry appear strong as measured by a robust list of ongoing and expected product launches. Large-cap biotech companies under our coverage (Alexion Pharmaceuticals, Amgen, Celgene, Gilead, Vertex Pharmaceuticals (VRTX)) all have ongoing or anticipated product launches in 2015. These launches…AbbVie (ABBV) / Enanta Pharmaceuticals (ENTA) Viekirax + Exviera for hepatitis C…Other high-visibility launches include the expected launches of PCSK9 antibodies, evolocumab from Amgen and alirocumab from Sanofi (SNY) / Regeneron (REGN) for high cholesterol, anticipated in 3Q:15. Although the expectation is for a slow ramp-up until cardiovascular outcome data (no later than 2017), the market is large enough to allow fast launches. For Celgene, Gilead, Medivation (MDVN) and Vertex, the launches are for their most important products; therefore the progress of the launches will be particularly important to watch.
Shares of Gilead Sciences have gained 0.9% to $101.39 at 1:59 p.m. today, while Celgene has risen 0.9% to $11.08, Amgen has advanced 1.2% to $161.28, Alexion Pharmaceuticals has jumped 1.6% to $180.56 and Vertex Pharmaceuticals is off 0.1% at $110.70.
Read article here: 
Big Biotech Poised for Big 2015?
See which stocks are being affected by Social Media