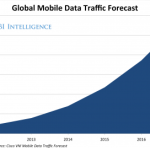 BII
The world is awash in data, with mobile driving the latest surge in data volume.
This is being touted as great news for every aspect of business. Big data is seen as a way to improve productivity at every level of a company, give brands exact ad targeting capability, and help make healthcare and government more efficient.
But there's a big catch.
That data is only useful if it can be harnessed effectively. Data is important, undeniably, but picking the right data is even more important. This typically means defining a target or goal and subsequently establishing disciplined parameters for the data you want to collect or process.
In a recent report from BI Intelligence, we take stock of how big Big Data might become, where the opportunities are for Big Data to have a strong impact on a given field, and talk about how businesses might choose the most effective data sets to meet their goals.
Here are some of the defining features of the intersection of big data and mobile:
First, big data needs to be defined: Big data is most commonly defined as data sets that meet three attributes, known as the three "Vs": volume, variety, and velocity. But there is something more to it. "I like to say there's a fourth V: value," says Kipp Jones, vice president of product at Skyhook. In order for data to be meaningful at all, it needs to be captured and stored efficiently. Then someone has to manage the data, analyze it, and extract value from it. Data, big or not, doesn't add up to anything worthwhile if it doesn't have value to someone.
Mobile is particularly well-suited to a big data lens: Mobile big data isn't only a function of smartphone penetration and consumer usage patterns. The data is also created by apps or other services working in the background. Technically speaking, its not that different from data created using the traditional Web. The difference is that consumers are just producing more of it as we shift our behavior to digital channels, leaving a trail of data documenting our movements and actions. Even when we are ostensibly not using our phones, we are still creating reams of data.
This data can be used to optimize and personalize mobile experiences: Mobile big data can be used for a dizzying variety of purposes, but it is often used for the optimization and personalization of mobile services. App developers, for example, might use Flurry's analytics to improve their apps. Retention is a key metric for developers. Developers can compare their user retention numbers with all other apps and apps within their own categories, to gain insight into how they stack up, and what they might have to change to improve their numbers.
Or to help drive an explosion in mobile advertising: Location data is an essential component of mobile big data — perhaps the primary data type that differentiates mobile from Web-based big data. Location data is expected to help transform the mobile advertising industry. The ability to deliver real-time hyper-local, targeted advertising represents a potentially momentous evolution of the ad market.
In full, the report:Defines what big data data is
Examines mobile's connection to big data
Analyzes big data potential, practical applications, and pitfalls on mobile devices
Looks at how big data is collected
Answers some of the most frequently asked questions about big data and mobile
To access BI Intelligence's full reports on Big Data And Mobile, sign up for a free trial subscription here.
Originally from: 
Big Data Has Transformative Potential – Business Insider