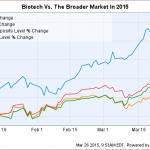 Last summer, Federal Reserve Chair Janet Yellen said valuations in certain corners of the stock market like biotech were getting "substantially stretched," and traders have gotten a good laugh at her warning ever since as the stocks resumed their winning ways and raced higher. But given the recent battering of the biotech stocks, the caution recommended by the central bank chief isn't quite as easy to laugh off these days.
After Wednesday's 2.4% slump, the worst one-day slide in 240 days, the Nasdaq composite is trying to break a three-day losing streak that dropped its year-to-date gain from over 6% to less than 3%, a drop driven in part by the slumping biotech sector.
The iShares Nasdaq Biotechnology ETF (IBB), which tracks an index of about 150 U.S. biotech and pharmaceutical names, dropped 4% Wednsesday and has slumped almost 7% this week after racing out to all-time highs to start the year, cutting its 2015 gains from 20% to 12.5%.
The technical signals aren't great either. According to Jason Goepfert, author of the SentimenTrader Daily Report, the number of stocks in the biotech index trading above their 50-day moving average plunged to 50% from more than 80% in the last week. The last time conditions deteriorated so quickly, in Februrary 2009, a brief respite gave way to further decline and fewer than 20% of the group held above their 50-day averages. That respite may be getting underway Thursday, with IBB erasing opening losses to inch into positive territory.
Even with the recent drop, the biotech group is still easily outperforming the broader market, with returns this year that easily outpace those of the Nasdaq composite, S&P 500 and Russell 2000.
Paul Karos, senior portfolio advisor at Whitebox Advisors, says it's important to separate the fundamentals of the business from the valuation of stocks. The former, "continues to be one of the bright spots in the market," he says, while the latter, always a hurdle for value-conscious investors, has continued to accelerate.
Less than half the stocks in the IBB are even expected to make money in the next fiscal year, rendering price-to-earnings multiples irrelevant. Those that anticipate making money trade at level ranging from high — 43 times expected earnings for Regeneron Pharmaceuticals Regeneron Pharmaceuticals and 57 times for Illumina Illumina, according to FactSet — to the extreme – 210 times expected earnings for small-cap Medicines Company and 109 times for Pacira Pharmaceuticals Pacira Pharmaceuticals. Sprinkled in are a few multiples that seem downright reasonable — Biogen Idec Biogen Idec and Celgene Celgene go for less than 30 times earnings, while Amgen Amgen goes for just 17 times.
Part of the surge in healthcare at large is becasue it's seen as a "defensive growth sector," Karos says. "In this world, that has a lot of appeal" as investors try to bet on stocks that will keep up with a bull market but protect them in the event of an equity retreat.
Read article here:  
Biotech Bulls Trampled As Momentum Stalls