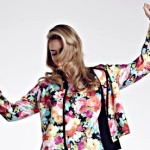 Loud and proud. Boohoo.com makes extensive use of social media. Photograph: boohoo.com
The clamour to invest in fashion website Boohoo.com put a rocket under its share price when it floated on Friday, with the fast-growing fashion website finishing the day with a market value of £840m, nipping at the heels of established FTSE 250 retailers such as Ted Baker and Debenhams.
Shares in the Manchester-based company started trading on the junior Aim market at 50p but within 10 minutes had jumped 70% to 85p. They closed up 40% at 70p
The enthusiastic reaction from investors added to the paper wealth of the Kamani family who have already pocketed £240m from selling some of their majority stake in the business. The 44% stake retained by the family and other board members was worth £370m at close of trading.
Last week the retailer confirmed its IPO had raised £300m, with £50m of that retained for investment. The offer is understood to have been heavily oversubscribed.
The website, which targets 16-24-year-olds, was founded in 2006 by Mahmud Kamani and his business partner Carol Kane. The pair previously ran a successful business supplying high street rivals such as Primark and New Look and are joint chief executives of the listed company. Boohoo.com, which makes extensive use of social media, has been described as an online Primark, its mainstay being dresses selling for between £12 and £25.
Already shipping to 100 countries, Boohoo.com has impressive margins and made a profit before financial charges of £10m on sales of £92m in the 10 months to December. That compared with profits of just £3.5m a year ago.
But the runaway valuation has fuelled fears that the stock market is once again in the grip of dotcom fever. Shares in AO World, the domestic appliance website, soared as high as 44% during its first day of trading last month.
"As an online-only store, Boohoo.com is unconstrained by politics and a bricks and mortar based retail mindset," said Radcliffe Cole of internet specialists Tryzens. "It also has a loud and proud brand presence. This identity has been developed specifically with their target audience in mind: teenage girls."
Originally posted here:
Boohoo.com fashion website soars on stock market – ending day at …
See which stocks are being affected by Social Media