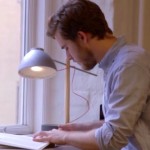 "Bright" Lamp Understands Stock Market
like

The Aspiration Lamp, designed by students at the Copenhagen Institute of Interaction Design, invests for its ownerJason Brick16 june 2015
Technology
The Aspirational Lamp is a solar-powered lamp that invests in the stock market for its owner. The lamp will invest on its own, browsing the market for the proper investments while checking for times to buy and sell. It looks like any other desk lamp, having the ability to twist toward the sun and gather a resupply of energy.
The lamp appears self-diagnostic, able to check stock prices, follow sunlight and order replacement parts if it starts to malfunction.
If actualized, the lamp will also sell stocks and arrange for a deposit according either to its own risk/reward analysis of stock performance or according to parameters preset by the owner. When not acting as a financial advisor, it still doubles as a fully functioning lamp.
The Aspirational lamp was created as a project idea by the students of Copenhagen Institute of Interaction Design. Little information is shared outside of the video simply titled 'Secret Life of Objects.'
The Aspirational Lamp is the newest entry in a long line of devices using the Internet of Things to blur the lines of functionality between objects. As components continue to miniaturize and connectivity becomes even more ubiquitous, we can only expect this trend to build upon itself.
Jason Brick16 june 2015
Technology
TAGS
Copenhagen Institute of Interaction Design
Design
technology
The Aspirational Lamp
Mail
like
See original:  
"Bright" Lamp Understands Stock Market – PSFK.com