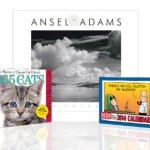 January 03, 2014
Calendars.com's Big Resolution? Breaking Down Big Data
Calendar.com's Big Resolution? Breaking Down Big Data
The holiday hysteria may be over for most brands. But for Calendars.com, the shopping season is still in full swing. Eighty percent of the calendar etailer's business occurs between November and January. To cut through its surge of data more quickly and efficiently, and gain insights and drive profit, Calendars.com implemented eCommera's Big Data solution DynamicAction.
While many retailers wouldn't dare implement new technology two weeks before Black Friday, Calendars.com launched the solution on November 7 to prepare for the busy months ahead.
"Because of the concentration of business at the time, we knew we would benefit from a system that would slice through all of the data and deliver lists of actionable insights," says Paul Hoffman, CEO of Calendars.com. "We're swimming in data. The challenge is digesting and prioritizing it."
By using the SaaS application to gather, integrate, and analyze third-party search and email data, as well as its own first-party purchase data, Calendars.com gained insight about the popularity of its more than 6,500 calendars and more than 9,000 puzzles, games, books, and gifts. For instance, the brand learned which products had high conversion rates, but low page-entry rates. So Calendars.com was able to redirect people to landing pages with high conversion rates. The calendar company also identified about 100 products that weren't assigned to a particular category and, as a result, weren't being merchandised.
Although Calendars.com has seen a change in sales since it adopted DynamicAction, he can't completely attribute the rise in sales to the tool because the brand typically sees a sales lift this time of year. However, Hoffman notes that the implementation has helped Calendars.com be more organized and cut through "voluminous" amounts of data. "One misconception is that more data is better. I don't necessarily think that's true," he says. "It's about getting the right data and focusing on it."
Source – 
Calendars.com's Big Resolution? Breaking Down Big Data – DMNews