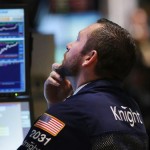 It was more whimper than roar, but the S&P 500 (SPX) ground to another record high last week. This achievement was scored within whisker-thin trading ranges as select measures of broader-market volatility probed 2015 lows. Now, economic data comes into focus in this holiday-shortened week and in the week following, which features the typically closely watched monthly jobs report.
Volatility flared up just briefly during the first half of May, but all that changed last week (figure 1). Including Friday's 4.75-point decline, the average daily move in the SPX over the past five trading sessions was less than 4 points. Compare that to a 12.8-point average daily move during the first two weeks of May and 9.3 points in April.
Some Defectors
Mixed trading across market sectors is possibly one reason for the decline in volatility since April. Sure, the S&P 500 has continued its march into uncharted territory, but it's barely budged from the intraday highs hit April 27. What's more, not all stocks are following suit.
The one-month heat map from TD Ameritrade's Trade Architect shows notable weakness (red squares) in sectors like energy, utilities, and consumer goods. Financials, tech, and industrials have been among the brightest performers (figure 2).
Earnings news has lightened considerably, but this week's corporate snapshots highlight two closely watched areas of the economy: the housing market and consumer spending. Home builder Toll Brothers (NYSE: TOL) reports earnings Wednesday. A handful of retailers, including Costco (NASDAQ: COST), Tiffany (NYSE: TIF), and Abercrombie & Fitch (NYSE: ANF), release results later this week.
360 View of Economy
Durable goods data is often closely scrutinized to see if the uptick in hiring is translating to spending on big-ticket purchases. As retail data has sputtered, Wall Street has intensified its watch for other signs of a braver consumer, presumably on more expensive goods or new homes. The rate of increase in spending could be a key driver as the Federal Reserve looks to pinpoint the start time for its planned campaign to undo historically low interest-rate policy.
As reported Tuesday morning, orders for durable U.S. goods fell a seasonally adjusted 0.5% in April, about in line with Street expectations. Yet orders minus the volatile transportation breakout rose 0.5%. Orders for core capital goods—a proxy for business investment—climbed 1% to mark the second straight gain.
New homes sales and consumer confidence will possibly set the tone for trading Wednesday before manufacturing (another consumer sentiment measure) and the broad-based gross domestic product (GDP) report are released Friday (see figure 3).
The pace of economic reports accelerates in the first week of June, including payrolls growth, the jobless rate, and wage data due to hit in June 5's monthly report.
Bond Market Bombshell?
Last week's fresh 2015 lows for the VIX seem to suggest that investors don't expect many land mines or explosive market moves in the weeks ahead—even with the barrage of economic data. After all, the index tracks the implied volatility in short-term options on the S&P 500 and so is considered a forward-looking barometer for risk perceptions. Indeed, the options market might already be discounting the "summer doldrums" that sometimes drive slower trading in June and July.
Yet, lower trading volumes don't always result in less volatility. In fact, thin trading can sometimes exacerbate market moves. Upcoming catalysts include economic data that might serve to reset interest rate expectations for the second half of 2015.
Keep an eye on a rising dollar, yes again, and oil's continued flirt with $60 a barrel, as both could have implications for stock trading. Perhaps most importantly, let's see if the bond market remains as calm as the stock market. As we've seen many times in the first half of the year, volatility in the bond markets and sudden moves in bond yields—one way to monitor interest rate expectations—often result in wild gyrations in the equities market.
Good trading,
JJ
@TDAJJKinahan
This piece was originally posted here by JJ Kinahan on May 26, 2015.
TD Ameritrade, Inc., member FINRA/SIPC. Commentary provided for educational purposes only. Past performance of a security, strategy, or index is no guarantee of future results or investment success. Inclusion of specific security names in this commentary does not constitute a recommendation from TD Ameritrade to buy, sell, or hold.
Options involve risks and are not suitable for all investors. Please read Characteristics and Risks of Standardized Options before investing. Supporting documentation for any claims, comparison, statistics, or other technical data will be supplied upon request.
The information is not intended to be investment advice and is for illustrative purposes only. Be sure to understand all risks involved with each strategy, including commission costs, before attempting to place any trade. Clients must consider all relevant risk factors, including their own personal financial situations, before trading.
The following article is from one of our external contributors. It does not represent the opinion of Benzinga and has not been edited.
Posted-In: JJ Kinahan The Ticker TapeOpinion Economics Best of Benzinga
Original post:  
Calm Or Complacency Economic Barrage Looks To Test Lofty Stock …