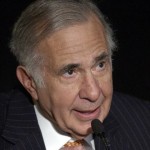 REUTERS/Chip East
See Also
(Reuters) – Activist investor Carl Icahn said on Monday he is "very cautious" on the stock market, saying he could see a "big drop" because earnings at many companies are fueled more by low borrowing costs rather than the strength of management.
Icahn, speaking at the Reuters Global Investment Outlook Summit, also hinted at his ongoing plan for Apple Inc, the most valuable U.S. stock by market value, saying that he does not want to fight with management at the iPhone giant but has no plans to walk away from his investment.
Icahn, who runs Icahn Enterprises, is urging Apple to buy back $150 billion worth of shares, which the company has not committed to. Icahn owns approximately 0.4 percent of Apple's outstanding shares.
The 77-year-old billionaire investor's views on markets and individual companies are widely followed in light of strong returns he has generated after his involvement in different companies.
Icahn said that in the last five years, investors who bought shares of companies in which his firm took a position on a company's board and held it as long as an Icahn representative stayed on the board would have earned 28 percent on an annualized basis.
(Reporting by Svea Herbst-Bayliss and David Gaffen; Editing by Leslie Adler)
View the original here: 
CARL ICAHN: The Stock Market Could See A 'Big … – Business Insider
See which stocks are being affected by Social Media