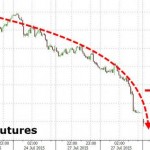 "China's market is so distorted, you can't sell short very confidently and you can't buy up very confidently either," warns one Hong Kong-based asset manager as despite massive "measures" and manipulation, Chinese stocks extend yesterday's stunning losses (CSI-300 -5% at the open, Shanghai -4.1%). As Bloomberg reports, investors "are concerned and lost," although government officials tried to claim the situation by explaining they will "continue efforts to stabilize market and investor sentiment, and prevent systemic risk." As stocks continued to fall, the market is summed up by the opposing views of one broker noting "China won't tolerate a worsening stock market, so those state-backed financial institutions may start buying," and another who warned "it's hard to start a new up move after a bubble bursts… I don't think they are able to prevent it falling."
The PBOC is desperate to reasure on the fundamentals backing the bubble:
*PBOC SAYS POSITIVE CHANGES SHOWN IN ECONOMY
*CHINA PBOC REITERATES TO PURSUE PRUDENT MONETARY POLICY IN 2H
*PBOC TO KEEP SUPPORTING REAL ECONOMY DEVELOPMENT
*PBOC TO CUT FINANCING COSTS
But even after that, the market keeps crashing…
*CHINA'S CSI 300 STOCK-INDEX FUTURES FALL 4% TO 3,611..
*CHINA SHANGHAI COMPOSITE SET TO OPEN DOWN 4.1% TO 3,573.14 and more…
Bloomberg quotes another analyst who perfectly sums up the world…
"The markets in China now are not really markets," Donald Straszheim, head of China research at New York-based Evercore ISI, said on Bloomberg Television last week.

"They are government operations."
But as one manager concluded, if state-run funds withdrew support to test whether shares could stabilize at current levels on their own, the resulting retreat may prompt the government to step back in immediately to prop up prices, said Hann, who oversees about $350 million. On the other hand, if policy makers are starting to unwind support measures to let the market play a bigger role, shares may have further to fall, he said.
And here is CNBC from June 10th proclaiming how awesome the Chinese Stocvk Bubble was…
Farmers are eschewing crops to plough their cash into the booming stock market, a journey by CNBC into the heart of rural China discovered

Six months ago, apple farmer Liu Jianguo invested $8,000 into the Shanghai Composite, a big chunk of his life savings.

"It's a lot easier to make money from stocks than farm work," he told CNBC's Eunice Yoon.

…

The investment craze in Chinese rural areas comes as more retail investors play a bigger role in the market, encouraged by the Shanghai Composite rally which has risen 110 percent since last November.

Moreover, the country's high degree of financial literacy is a key factor; China ranked first in the investment component of the MasterCard Financial Literary Index Report this April.

"China is just beginning to catch up. In the United States 50 percent of families are investing in stock markets [whereas] in China, it's less than 9 percent," said Uwe Parpart, MD and head of research at Reorient Financial Markets.
Maybe farmwork is better after all?
As we noted earlier, clearly, this is has the potential to exacerabte capital outflows given the pressure it could put on the yuan. Nevertheless, "stabilizing" the market is likely to take precedence in the short-term which is why you should expect the plunge protection headlines to come fast and furious. And sure enough, just moments ago:
CHINA TO CONTINUE STABILIZING MARKET, SENTIMENT, PREVENT RISKS
CHINA SEC. FIN. CORP. HASN'T EXITED STOCK MARKET: CHINA'S CSRC
And for comic relief, we'll leave you with the following comment from Finance vice-minister Zhu Guangyao, also from July 18:
"[The turmoil] has come to an end."
Umm no, not so much!
* * *
There is only one thing left…
Charts: Bloomberg
Average:
4.916665
Your rating: None Average: 4.9 (12 votes)
Continue reading – 
China Carnage Continues; Investors "Lost & Concerned" Despite …