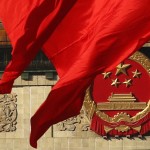 REUTERS/Kim Kyung-Hoon
HONG KONG/BEIJING (Reuters) – A document purporting to detail reform plans by China's ruling Communist Party, including liberalizing the prices of resources and reining in some state monopolies, circulated widely on social media on Friday, helping fuel the biggest stock market rally in two months.
The document appeared to be a scanned copy of part of a version of a policy statement with annotations on it. It circulated on the Twitter-like social media service Weibo and was passed around widely on the social messaging service WeChat.
Reuters was not able to independently verify the authenticity of the document, but market players said that its relatively detailed language on reforms helped fuel a rally in Shanghai and Shenzhen stocks that saw the CSI300 index <.CSI300> post a 2 percent rise amid heavy volume.
The Communist Party is widely expected to release a more detailed blueprint for economic reforms early next week, following a more general communiqué issued on Tuesday at the close of a plenary session of its elite Central Committee.
The relatively vague wording of the communiqué had disappointed the market, contributing to a fall of more than 2 percent in the CSI300 index on Wednesday.
"The move up today in the A-share market was mainly driven by the leaked draft document that gave people the reform details that were lacking in the initial communiqué," said a strategist with a Chinese brokerage, who asked not to be identified because he was not authorized to speak to media.
Another equity trader at a mid-sized brokerage in Shanghai said: "Compared to the communiqué released a few days ago, several factors exceeded expectations. So the market reacted."
Calls to the publicity department of the Communist Party were not answered, and there was no immediate response to a faxed request for comment.
The document said the government will push reforms on the pricing of water, oil, natural gas, electricity, telecommunications and transportation, and refrain from intervening in the market.
The government will push ahead with exchange rate and interest rate reforms, establish a market-driven bond market and open capital markets further, while speeding up moves towards full capital account convertibility, it said.
The government will also push reforms to limit various forms of state monopolies. State-owned firms must adapt to market changes, improve their efficiency and engage in fair competition, and exercise more social responsibility, it said.
China will encourage more state-owned enterprises (SOEs) to shift towards mixed ownership by bringing in private investors and allowing employees to hold shares in such companies, it added.
It included details on giving farmers more property rights and quickening reforms of the current "hukou" or residency system, which currently hinders rural residents from making a full transition to urban dwellers – something that in turn has impeded the country's urbanization efforts.
Such restrictions will be lifted in small cities and townships and gradually removed in middle-sized cities, the document said.
The language in document was consistent with the overall tone of the communiqué issued on Tuesday, in which the party vowed to let the market play a "decisive" role in the economy and said it would create a central working group to push through reforms.
Independent of the leak, the official People's Daily published comments by a senior party official on Friday saying the party's reform plan was "unprecedented" in an apparent bid to reassure the market about Beijing's commitment to pushing for change.
"Efforts will be unprecedented," Yang Weimin, vice head of the Office of the Central Leading Group on Finance and Economic Affairs, told the People's Daily in an interview.
The leadership approved a "decision on the deepening of comprehensive reforms" in a 20,000-word text covering 15 areas, he said.
"When reforms have entered a crucial stage, the deep water, we have to push comprehensive changes in order to deepen reforms," said Yang, who was involved in drafting reform plans.
(Reporting by Beijing, Shanghai and Hong Kong newsrooms; Editing by Neil Fullick)
See original article:  
Chinese Reform Plan Leaks And The Stock Market Surges …
See which stocks are being affected by Social Media