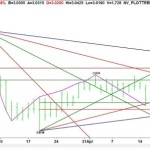 Get Forex buy/sell signals directly to your email and by SMS.
July Comex High Grade Copper futures are trading slightly lower in the pre-market session. The high and low are inside the previous session's range, suggesting trader indecision and impending volatility.
The main trend is down on the daily chart. The main range is 3.2280 to 2.8720, making its retracement zone at 3.0500 to 3.0920 the nearest resistance and potential upside target.
The minor range is 2.8720 to 3.0690. The next potential downside target is its retracement zone at 2.9705 to 2.9475.
The bigger picture suggests a sideways market. The triangle chart pattern, bounded by 3.0680 and 2.9820 today has been holding the market in a range for several weeks. Eventually, traders will become frustrated with this range bound market and take out either the support or resistance on big volume. This should create a volatile move. The projected date for this move is no later than April 30/May 1.  
The downtrending angle comes in at 3.05 on April 24/25. Crossing this angle will also put the market on the bullish side of a 50% price. This would indicate strength especially if accompanied by higher than average volume.
Continue to trade the range or keep your powder dry and wait for a triangle chart pattern breakout. It looks as if a news event from China or the U.S.  will be needed to move this market in a big way. Be patient, volatility and volume will soon return. 
More here:  
Comex High Grade Copper (HG) Futures Technical Analysis – April …
See which stocks are being affected by Social Media