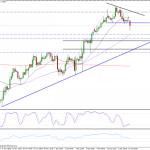 Daily Technical Analysis – 13 December 2013
December 13, 2013
by
in
EURUSD
The consolidation in this pair over the last couple of days, which previously looked like a triangle – a continuation pattern – has now become a descending triangle. This is typically a bearish pattern, regardless of whether it appears in an uptrend or a downtrend, so the break lower this morning came as no real surprise. What this does suggest is that following very aggressive rally over the last couple of weeks, we may finally be about to see a proper retracement. This could also potentially be a longer term trend reversal, although at this stage I see no evidence of this and will therefore treat it as a retracement. Of course this could change next week if the Fed tapers. With this in mind, thenext key level of support for the pair, and therefore potential reversal, is 1.3667, the 50% retracement of the move from 3 December lows to 11 December highs. Below here we have the 61.8 fib level, which also roughly coincides with a previous level of resistance, as well as the ascending trend line, which dates back to 21 November. At the moment, this looks like the most likely point of reversal for the pair, although this is of course just a guess at this stage. When it comes to spotting the reversal, the lower time frames should give the best clues.
GBPUSD
Sterling is looking very bearish in the short term, having broken through a significant support level yesterday, before also breaking through the neckline of a double top formation. Based on the size of the formation, this should now prompt a move back to around 1.62, which pretty much coincides with both the 61.8 fib level, of the move from 19 November lows to 10 December highs, and the descending trend line, which dates back to 28 April 2011. Bother of these lie around 1.6213, making the region between these two levels massive in terms of support. Should the pair find support here and rebound higher, it would act as confirmation of the original break and be a very bullish sign. A break below on the other hand would be very bearish, although I don't expect this to happen unless, as I stated earlier, the Fed tapers on Wednesday. It is worth pointing out that the pair is currently struggling to break below a significant level of support, around 1.6260. This is the 50% retracement of the move mentioned previously, as we as a previous level of support. While the break of the double top neckline suggests this will be broken, this is a very big level so I will need to see a close below here on the 4-hour chart for confirmation of the move back towards 1.62.
USDJPY
 The dollar has pared all of its gains made against the yen over night and is now trading slightly lower on the day. As a technical setup, this is now looking very bearish in the short term as it means the pair has failed to close above 1.0335 – assuming it doesn't close above here later today – for a fourth day. On top of that, tdaoy's candle is also looking very bearish and currently looks like an inverse hammer. Although, only a completed candle matters so this is just an early observation. Having failed to break below the 61.8 fib level, of the move from 5 December lows to 10 December highs, in the last couple of days, this now looks very much like an ascending triangle, a bullish continuation pattern. We could see further consolidation in the coming days, with the reaction above 103.35 in recently suggesting it's not quite time yet for a break higher. If we get a daily close above 103.35 today, that would be quite bullish and potentially prompt another strong move higher at the start of next week. An early sign for this could potentially be seen on the 4-hour chart where we've already seen a close above 103.35 and the current candle appears to be testing it for confirmation of the break.
Author: Craig Erlam
Tagged EUR/USD, foreign exchange trading, forex, forex uk, FX, GBP/USD, Metatrader 4, MT4, MT5, Technical analysis, USD/JPY
Source article:
Daily Technical Analysis – 13 December 2013 | Alpari Newsroom …
See which stocks are being affected by Social Media