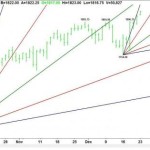 Get Forex buy/sell signals directly to your email and by SMS.
March E-mini S&P 500 Index futures continued higher overnight. The move is being driven by last week's tapering by the U.S. Federal Reserve, stronger-than-expected U.S. third quarter growth and higher markets in Asia and Europe. The rally could continue throughout the session despite thin pre-holiday trading. Investors, however, should watch for a potentially bearish closing price reversal top due to profit-taking.
Fundamentally, at 8:30 a.m. ET, the Bureau of Economic Analysis' PCE report which is said to be the Fed's favorite measure of inflation is expected to remain below the central bank's target. Look for a reading of 1.2% in November. Today, the University of Michigan will release its latest report. Look for a reading of 82.9 versus 82.5.
Technically, there is no resistance in sight which means investors will have to watch for a bearish chart pattern such as a closing price reversal on either the hourly or daily charts to signal a top. The nearest support is an uptrending angle at 1834.00, followed by 1794.00. 
More – 
E-mini S&P 500 Index (ES) Futures Technical Analysis – December …
See which stocks are being affected by Social Media