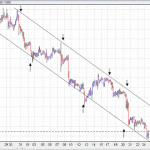 The below research is by Waves Strategy Advisors. For various research products visit http://wavesstrategy.com/index.php/store.html
The below article highlights on how to trade Gold using basic "Technical analysis" and techniques like Channels. Bullions are one of the highly liquid commodities.
In 2009 Comex Gold was almost trading near 650 per ounce and it made life time of 1900 near mid August 2011. Price almost tripped in 3 year. This type of trend we witnessed first time since 1996. It is quite oblivious that how one can almost capture whole trending moves. The simple answer is technical analysis, Elliott wave counts and other technical tools.
Even basic techniques like channels also work precisely and give entry and exit points.
Comex Gold 120 mins chart:
After making top near $1900 we witnessed corrective movement in Gold. If events were to drive the prices of Gold than why is it following the simplest technique of channeling so precisely?
Prices are moving lower in downward sloping channel. The arrows show how precisely it has acted as support and resistance. One can easily conclude the short term trend looking at this chart.
But this does not mean that the current position on Comex Gold is a good bet to initiate shorts as prices have arrived near the lower trendline of the channel. So what should be trading strategy from here?
To know more about daily trading strategy on Bullions subscribe to "The Commmodity Waves" or"The Global Waves" and get daily charts with explanation on Bullions, Energy, Base Metals. For more information visit www.wavesstrategy.com
Link: 
Elliott Wave India – Taking technical analysis to next level: Trading …
See which stocks are being affected by Social Media