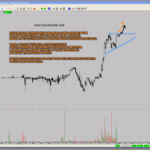 Quick chart comparison of the two companies fighting a huge battle in the in-flight entertainment business or simply put: wireless internet access for airlines. The battle I am referring to is mainly being fought out in the blogosphere and the social media arena.
I have no idea which company is better, which valuation is more appropriate or whatever else you might think of. I only look at the chart of both and the conclusion to draw for a purely technical trader is a very simple one. ENT has closed at a new all time high today. It is trading within a bullish ascending triangle. GOGO Inc. right now is struggling and facing a lot of selling. It has now built up some serious overhead resistance, nothing unsurmountable, but compared with ENT it is ENT which is now displaying the best odds to explode to the upside. In a few days or weeks the picture may change again but my job as a trader is to choose the path of least resistance and to follow the stocks with the best set-ups. Therefore my money right now is on ENT – Global Eagle Entertainment.
Click on chart to enlarge:
As you can see in my annotated chart, my best guess would be for the bullish scenario drawn in orange to pan out. The overall bullish ascending triangle pattern should be resolved to the upside soon. What I really like about ENT is the fact they recently did a secondary offering at 14.25 USD. This acts as a price floor and the company won't need to tap the markets again in the near future.
Click on chart to enlarge:
GOGO is displaying a lot of overhead resistance. The gap I drew into the chart might end up being a break-away gap. If that's the case it would mean more trouble ahead. It is too early to tell and as a trader I don't need to play guessing games. For now the chart offering the path of least resistance to the upside is ENT. Therefore it is the better technical choice.
Company description www.globaleagleent.com:
Global Eagle Entertainment Inc. is the leading full service platform offering both content and connectivity for the worldwide airline industry. Through its combined content, distribution and technology platforms, Global Eagle provides airlines and the millions of travelers they serve with the industry's most complete offering of in-flight video content, e-commerce and information services. Through its Row 44 subsidiary, Global Eagle utilizes Ku-band satellite technology to provide airline passengers with Internet access, live television, shopping and travel-related information. Currently installed on more than 500 aircraft, Row 44 has the largest fleet of connected entertainment platforms operating over land and sea globally. In addition, through its AIA division, Global Eagle provides film and television content, games and applications to more than 130 airlines worldwide. Global Eagle Entertainment is headquartered in Los Angeles, California and maintains offices and support personnel around the world.
My question is this: What's the difference if you continue to hold a stock that has declined by 10%, waiting for it to come back and overcome negative news, or buy a fresh new name that looks good from the start? The answer is: Nothing but your ego. – Mark Minervini
Twitter: https://twitter.com/tischendorf
Stocktwits: http://stocktwits.com/Tischendorf
Charts:  http://stockcharts.com/public/1109839/tenpp
Related posts:
Continued here: 
ENT Global Eagle Entertainment vs. GOGO Inc – Technical Analysis …
See which stocks are being affected by Social Media