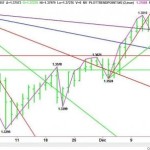 Get Forex buy/sell signals directly to your email and by SMS.
EUR/USD Daily Analysis
The main trend is up on the daily chart. The EUR/USD will turn down when 1.3524 is violated. The short-term chart indicates that a new minor bottom was formed overnight at 1.3709. The new short-term range is 1.3810 to 1.3709, making 1.3760 a key pivot price.
Uptrending Gann angle support is at 1.3704. This angle from the 1.3524 bottom is moving up .002 per day. Early in the session, the market crossed back over to the bullish side of an angle coming from the main top at 1.3832. This angle is at 1.3741 today.
EUR/USD Hourly Analysis
The main trend is up on the 60-minute chart. The main trend will turn down on the hourly chart when 1.3736 is violated. The main range is 1.3709 to 1.3798. This range has created a retracement zone at 1.3753 to 1.3743. At the mid-session, the upper, or 50% level at 1.3753 is holding as support. Holding this area could trigger a rally back to 1.3781.
On the downside, a sustained move through 1.3753 could trigger a break into an uptrending angle at 1.3745. A sustained move through this price could trigger a further break into the Fibonacci level at 1.3743. Under this price, the hourly chart indicates plenty of room to the downside with an angle currently at 1.3727 a potential target.
Continued here:  
EUR/USD Mid-Session Technical Analysis for December 16, 2013 …
See which stocks are being affected by Social Media