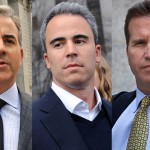 The court's move to overturn convictions of Anthony Chiasson, left, and Todd Newman, right, comes as Michael Steinberg, center, plans to appeal his conviction on similar grounds.
From left: Bloomberg News; Associated Press; Bloomberg News
Manhattan U.S. Attorney Preet Bharara had enjoyed a nearly untarnished winning streak of insider-trading prosecutions since he took office in 2009, earning a reputation as Wall Street's most intimidating sheriff.
Those days may be over in the wake of Wednesday's landmark federal appeals court ruling overturning two insider-trading convictions. What the decision means for Wall Street's most high-profile prosecutor and the future of insider trading prosecutions are the questions of the day. Here's what law professors, white-collar lawyers and other experts are saying about it.
According to University of Pennsylvania law professor Jill Fisch, the ruling was a message recent insider-trading prosecutions had gone too far, she told Reuters. She said it makes sense to prohibit traders from paying a corporate insider for non-public information, but Wall Street traders routinely "get a whole lot of information from people that you talk to all the time."
Patrick J. Smith, co-chair of the white-collar practice at DLA Piper, told The Wall Street Journal that prosecutors "took insider-trading law and applied it to garden-variety research techniques—and criminalized behavior the trading community had long considered to be lawful."
The message sent by the Second U.S. Circuit Court of Appeals was clear, but less certain was its impact going forward.
"This decision will dramatically impact how the government investigates and charges traders, not only criminally but also civilly," Boies Schiller & Flexner LLP partner Andrew Michaelson, who worked on several insider trading cases as a former prosecutor, told the the New York Times.
Marc Powers, a securities lawyer with Baker & Hostetler LLP, told WSJ that the ruling is a rebuke to prosecutors who pushed the boundaries of the law in these cases "beyond fairness and reason." The Second Circuit "appears now to be setting the government straight," he said.
"Insider trading is now unprosecutable against those who insulate themselves by going through a middleman," securities lawyer Mark Rifkin told the New York Post.
The court's opinion "made the government's task of proving a benefit much more substantial because the government has to prove that the tipper gave the information over in order to get something back," defense lawyer Jonathan Streeter, who prosecuted the insider trading case against Galleon Group co-founder Raj Rajaratnam when he was at the Manhattan U.S. Attorney's office, told WSJ.
But defense attorney Michael Bachner, a former assistant Manhattan district attorney, told Capital New York that the decision shouldn't be viewed as "drastic."
"All the court said was that there has to be a benefit, now we're saying what the benefit is, and now it has to be a real benefit and the guy has to know about it," he said.
The outcome was good news not just for defendants but "for all the compliance lawyers who make a living trying to make this sort of thing intelligible," writes FutureofCapitalism.com blogger Ira Stoll.
"They have a difficult job, because they need to bear in mind not only the Delphic opinions of the judges and justices (never mind the actual law), but also the shifting political and popular moods that produce these prosecutions," he said.
And it's not just the Justice Department getting reined in, said Michael Dicke, a former enforcement head of the Securities and Exchange Commission's San Francisco office. "I guarantee that this [ruling] has the SEC reassessing its evidence in current insider trading investigations," he told USA Today.
– Susan Pulliam contributed to this post.
See the original post: 
Experts Take Stock of Insider Trading Ruling – Law Blog – WSJ