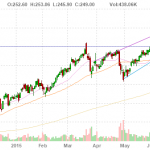 Market Rallies on FED comments but Biotechs are Left Behind
FED Expected to Raise Rates as Labor Market Tightens
The FED stands pat on rates but is on track to raise rates later this year, possibly at the September meeting, as jobs are on track but inflation is still not above 2%. The market began rally at 2P EDT after the FED noted an improving economy. This was confirmed with a Rise of 2.3% in the Q2 GDP while the first quarter GDP was revised upward to 0.6%.
As of 8:40 am EDT the 10 year bond rate is 2.28%. S&P futures are slightly down 0.29%.
Biotech Stocks Down on Profit Taking
Biotech stocks were lagging and could not follow up on a two-day rally. Most mid and small caps were down. Major ETFs were down with the more speculative XBI down over 2% to the $252 level a 5.5% fall over five days. Contributing to the sell-off today was Medivation (MDVN) Down 8.39% after JMP Securities and others cut estimates during July due to lower expected sales of Xtandi. The market cap is still $8.22B with a P/S of 10.93. The stock hit a high of $140 in late March and a low today of $88 before settling in at $95.74.
Look across your screen and you will see many other "immuno-oncology" losers such as: ARIA down 5.34%, CLLS down 3%, DRNA down 5%, KPTI down 6.37%, NLNK down 3.5% and PBYI down 3.8%.
One of our top large cap picks Gilead Sciences (GILD) delivered again beating estimates on sales and earnings with EPS at $3.15 vs average of $2.71, driven by sales of Hep-C drugs of $4.9B. Actual revenues were $8.24B from $6.54B with $7.6B expected. Revenue outlook for 2015 was raised from $29B to $30B. Gilead stock soared to $118 level before a gradual sell-off to $116 still up for the day. GILD still has a forward PE of only 10.1, a PEG of 0.62 and a P/S of 6 but despite the apparent value it may be over-owned as the stock could not hold the highs of the day. Expectations are very high on the earnings front.
On the other hand speculative biotechs without revenues nor Phase 2 data are the momentum favorites because valuations are without financial metrics. Case in point is the IPO du jour is NantKwest (NK) an immunotherapy Company which popped 39% to $35. See the NK S-1 with Celgene (CELG) as a partner and Patrick Soon-Shiong  as Founder and CEO. NantKwest has a proprietary NK (natural killer) cell line for an NK Treatment Pipeline in cancer, infectious disease and inflammatory disorders.
Rayno Biopharmaceuticals Portfolio
We last posted on 7/14 near the sector peak of 7/20. Biotechs began a sell-off on JY 24th and are down since despite a brief rally yesterday.
Rayno Large Caps are up for the month with following winners: ABBV, ALXN, AMGN, REGN. GILD and RHHBY were flat to slightly up. Biogen (BIIB) was the only loser down 21% over 30 days. The IBB was up 4.6%.
Rayno Mid-Caps are weak today but up over 30 days: ALKS is the leader up 7% over 30 days.
Rayno Small Caps started off strong in July but have sold off recently and are very weak today: CLDX, FMI, GLYC.  However FibroCell Science (FCSC) one of our top picks was up 27% over 30 days to $6.36.  Ignyta (RXDX) was down 7.9% since 6/30. Array (ARRY) was also down 17.8% for the month. The speculative small cap XBI was still up 4.94% for the month despite the sell-off.
The health care sector (XLV) remained a leader up almost 3% and up 11.6% YTD. The S&P is up only 2.4% YTD. The financials are beginning to gain strength especially if the FED raises rates. The Power Shares Trust (QQQ) NASDAQ-100 ETF also shows strength up 8% YTD.
The healthcare sector is a favorite because spending is expected to increase 5.3% this year and average 5.8% in years to come reaching 6% growth in 2024 reaching 19.6% of GDP.
Biotech stocks has been quite volatile in July so very difficult to trade. Momentum soared in mid July but has been lost and the market reaction to earnings is hard to predict. Disappointment is more likely as in the case of Apple (AAPL), Biogen (BIIB) and Facebook (FB). Even with the exceptional results of Gilead (GILD) investors expect more.
Here are several  points to consider for near term trades:
Biotechs are rolling over possibly due to valuation concerns and profit taking.
Look for rotation out of biotech into stocks that would rally with an improving economy.
Small caps are getting risky and hard to pick unless there is strong institutional support.
M&A is still the driver but $10B++ acquisitions could be out of reach for many companies.
Hold large and mid cap core positions or ETFs but position your portfolio for a Q4 rally.
We will review the Rayno Dx and Tools Portfolio after Q2 earnings. The sector has been weak due to slower revenue growth. Sector is underperforming except Hologic (HOLX), Illumina (ILMN), Neogen (NEOG) and ThermoFisher (TMO). Hold off on new buys until earnings cycle completed.
Share this:
Click to share on LinkedIn (Opens in new window)
Click to email this to a friend (Opens in new window)
Click to share on Google+ (Opens in new window)
Click to print (Opens in new window)
About Raynovich Rod
Rod Raynovich is an experienced biotech investor and analyst with a focus in vaccines, tools, IVD's and biopharmaceuticals. Prior to starting Raygent.com, he was a former technology transfer office at UCLA and he has held various executive positions in the biotech and medical device industry, including senior positions at NASDAQ listed biomedical companies. Prior to that Mr.Raynovich held management positions at Abbott, JNJ and Technicon.
View all posts by Raynovich Rod
Read this article:
FED Rallies Market But Biotech Stocks Are Lagging
See which stocks are being affected by Social Media