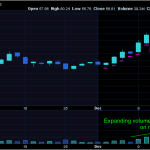 The Twitter IPO on November 7 started with an opening price of about $45. After trading between $40 and $45 for the next couple of weeks, the stock has taken off higher.
Some traders are looking for an opportunity to get into the stock, while others might be wondering when to exit the stock to lock in some gains. The analysis below should answer both of those questions.
Related: Five Star Stock Watch: Netflix
The company: Twitter, Inc.
Ticker Symbol: (NASDAQ: TWTR)
Sector: Technology  
Industry: Internet Information Providers
Twitter, Inc. is a global platform for public self-expression and conversation in real time. It provides various products for users, including Twitter that allows users to express themselves and create, distribute, and discover content
Please take a look at the one-year chart of Twitter below with added notations:
As Twitter has moved higher in recent weeks, it has done so on expanding volume, which is a positive sign for the stock's trend. In addition, you can see that the stock has essentially created a higher daily low on each day during the rise.
A breach of those daily lows most likely means a pullback is underway, which should provide an exit for current holders of Twitter, while also giving those on the sidelines a chance to enter the stock at a lower price.
Related: Five Star Stock Watch: Google
No matter what your strategy, or when you decide to enter, always remember to use protective stops and you'll be around for the next trade. Capital preservation is always key!
Link: 
Five Star Stock Watch: Twitter, Inc. | Benzinga