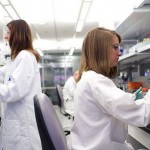 A doubling of Gilead Sciences '  sales has given investors plenty of reason to cheer on the biotech Goliath over the past year. However, with Gilead Sciences' sales growth set to slow this year, investors may find that these three top biotech stocks prove to be a better bet in 2015.
Source: Biogen Idec
: Gilead Sciences' slowing sales growth this year suggests that investors might want to consider faster-growing peers such as Biogen Idec  .
While Gilead Sciences is a leader in HIV and hepatitis C therapies, Biogen Idec is among the top makers of drugs used to treat multiple sclerosis.
Biogen Idec's MS drugs include the billion-dollar blockbuster drugs Avonex, Tysabri, and Tecfidera, as well as the company's newly launched Plegridy. On the back of Tecfidera, an oral MS therapy that saw its sales soar 130% to $916 million in the fourth quarter alone, sales of Biogen Idec's MS drugs increased 47% to $7.93 billion, and its total sales increased 40% to $9.7 billion last year.
Biogen Idec's momentum is expected to continue in 2015, too. In its fourth-quarter earnings conference call, the company guided investors to expect that its sales will grow between 14% and 16% this year. If so, then Biogen Idec's top line could grow twice as fast as Gilead Sciences'. Importantly, Biogen Idec expects that sales growth will lead to significant earnings expansion. The company is forecasting that its EPS will reach between $16.60 and $17 in 2015, up from $13.83 in 2014. With growth like that expected this year, at a minimum Biogen Idec should be on investors' radar.
: Shares of Regeneron Pharmaceuticals  have surged nearly 1,500% over the past five years, thanks to the FDA approval of its blockbuster eye drug Eylea in 2011. Regeneron markets Eylea in the U.S., while Bayer  markets it internationally.
Regeneron expects Eylea to generate U.S. net sales between $1.7 billion and $1.74 billion at the end of fiscal 2014, which would signify 20.6% to 23.4% year-over-year sales growth. Eylea generated $1.88 billion in global sales in 2013, but analysts at PropThink believe that figure could eventually hit $4 billion.
Since Eylea accounted for 75% of Regeneron's top line in the third quarter, most investors mainly focus on the drug's future. But Eylea's growth isn't the only reason to own Regeneron. Regeneron is also co-developing fully human monoclonal antibodies with Sanofi , three of which are in mid- to late-stage trials : alirocumab (a PCSK9 drug  for cholesterol), sarilumab (rheumatoid arthritis), and dupilumab (allergic diseases). If approved, Wall Street expects each of these drugs to generate $2 billion to $3 billion in peak sales.
Regeneron stock isn't cheap, with a trailing P/E of 139, and it remains heavily dependent on Eylea in the near term. But I believe that Regeneron's partnership with Sanofi will help it eventually diversify its top line and realize its full growth potential over the next few years.
: What was once boring is becoming exciting right now in biotech, and by that, I mostly mean biotech giant Amgen Inc.. Amgen is on the "cusp of a new product cycle," according to company management . If all the pieces fall into place, the company should break its long dry spell with four  new drug launches. Compare that with last year's paltry solitary drug launch.
On the operations front, Amgen's restructuring has already brought in $300 million in cost savings. The goal is $1.5 billion annually by 2018, according to The Wall Street Journal . The savings are earmarked for new products, but the company also plans to increase returns to shareholders through dividend increases and share repurchases.
In terms of the pipeline, candidates under regulatory review include Corlanor for chronic heart failure, as well as a drug for metastatic melanoma. Add to that a skin cancer drug called talimogene, and an expanded indication filing for Kyprolis, the cancer treatment at the heart of Amgen's $10 billion buyout of Onyx Pharmaceuticals .
But the big news is Amgen's revolutionary cholesterol-lowering drug Repatha. Despite stiff competition from Sanofi / Regeneron 's similar drug, Repatha could easily reach $5 billion  in peak sales.
Last but not least is recently approved Blincyto. Amgen slapped a mind-blowing price tag of $178,000  on the leukemia fighter. Blincyto could reach peak sales of $400 million with that pricing, and a label expansion could turn the drug into a blockbuster.
Compared with Gilead Sciences ' not-so-inspiring forecast, Amgen reiterated its 2015 guidance. Wall Street was disappointed that Amgen didn't raise the bar, and the stock deflated. The pullback looks like a buying opportunity to me, and I'm getting ready to pull the trigger. This company has a history of underpromising  and over-delivering, and Amgen's future looks terrific right now.
This coming blockbuster will make every biotech jealous
The best biotech investors consistently reap gigantic profits by recognizing true potential earlier and more accurately than anyone else. Let me cut right to the chase. There is a product in development that could revolutionize not just how we treat a common chronic illness, but potentially the entire health industry. Analysts are already licking their chops at the sales potential. If you hope to outsmart Wall Street and realize multi-bagger returns you will need to get in early — check out The Motley Fool's new free report on the dream-team responsible for this game-changing blockbuster. CLICK HERE NOW .
The article Forget Gilead Sciences: Here Are 3 Better Biotech Stocks originally appeared on Fool.com.
Cheryl Swanson owns shares of Gilead Sciences. Leo Sun has no position in any stocks mentioned. Todd Campbell owns shares of Gilead Sciences. The Motley Fool recommends Gilead Sciences. The Motley Fool owns shares of Gilead Sciences. Try any of our Foolish newsletter services free for 30 days . We Fools may not all hold the same opinions, but we all believe that considering a diverse range of insights makes us better investors. The Motley Fool has a disclosure policy .
Copyright © 1995 – 2015 The Motley Fool, LLC. All rights reserved. The Motley Fool has a disclosure policy .
The views and opinions expressed herein are the views and opinions of the author and do not necessarily reflect those of The NASDAQ OMX Group, Inc.
Continue reading: 
Forget Gilead Sciences: Here Are 3 Better Biotech Stocks