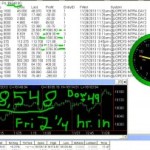 Stock Market Open: 09:30 AM EST
The Dow opens very positive but Trader Bob sleeps late and misses it!  (click to enlarge)
2 1/4 hour in  (click to enlarge)
SCTY  (click to enlarge)
Close: Dow closes -10.  This is what we closed out:
EXPE -60, NFLX +383, SCTY +5670, TSLA +386
TOTAL: + $6,438
This is what we are holding: (click to enlarge)
I am a trading system pro and have been trading markets and have been involved with trading system development and the programming of trading system software for 25 years. "Today Stock Market" is my opportunity to share with you some of my trading experience while discussing stock market news and giving my daily stock market update.

Friday November 29, 2013, Today Stock Market – November 29, 2013
Wednesday November 27, 2013, Today Stock Market – November 27, 2013
Tuesday November 26, 2013, Today Stock Market – November 26, 2013
Continued here: 
Friday November 29, 2013, Today Stock Market …