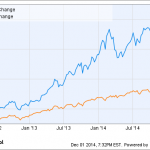 The stock market has been racing higher at nearly unprecedented levels in recent years. Even so, the healthcare sector in general, and biopharma stocks in particular, have still managed to crush the broader markets over the last few years. Since 2012, for instance, the iShares Nasdaq Biotech Index has more than tripled the returns of the closely watched S&P 500:
Perhaps what's surprising is that even dividend paying Big Pharma stocks, like Eli Lilly , Johnson & Johnson , and Teva Pharmaceutical Industries Ltd. , have soared since 2012:
Put simply, these "income stocks" have been behaving more like "growth stocks" throughout the course of this incredible bull run. The growth party, though, might be coming to a swift end.
According to the 13F filings with the SEC during the third-quarter, we learned that a number of major hedge funds, such as Soros Fund Management, have begun dumping these three top dividend stocks . Specifically, the Soros Fund sold its entire position in both Lilly and J&J, and a noteworthy 14.3% of its massive Teva holdings during the third-quarter. With this in mind, let's dig deeper into these three companies and consider if it is indeed time to take profits.
Lilly's stock may be losing momentum
Like so many major pharmas these days, Lilly has recently lost patent protection for key drugs like Cymbalta, Zyprexa, Evista, and Humalog , and is now looking toward its clinical pipeline to replace these former stars. The problem is that its pipeline hasn't been up to the task of late. For example, Lilly's stomach cancer drug, ;Cyramza, failed to meet its primary endpoints in late-stage trials for both breast and liver cancer, dramatically reducing its peak commercial potential. The company's newest diabetes drugs, ;dulaglutide and ;empagliflozin, are also entering markets chock-full of entrenched competitors, suggesting that it may take longer than usual to carve out a profitable niche. With Lilly's shares currently trading at a forward price-to-earnings ratio of 22, this dividend stock looks, to me, fairly valued. I therefore wouldn't consider buying it based on its growth potential, but the 2.86% yield is certainly worth a look by income-oriented investors.
J&J has storm clouds incoming
This stalwart of the healthcare and dividend landscapes has exploded higher over the last two years due to the strong performance of its pharma unit. The stock's rapid appreciation, though, doesn't appear to have made it "expensive" on a forward-looking basis. Specifically, experts have J&J shares trading at a forward price-to-earnings ratio of about 17, below the sector average of 24.
I think J&J shares are actually trading at a much richer premium , however. With the relatively new hepatitis C drug Olysio driving nearly 2/3's of sales growth within the pharma unit and the launch of Gilead Sciences ' Harvoni expected to wipe out most of these sales, my bet is that J&J reports negative growth in the first-quarter of 2015. So ;I'm not surprised that Soros decided to exit J&J.
Teva has a fight on its hands with Copaxone
Earlier this year, Teva was the largest holding in the Soros Fund, but its position has dropped markedly over the last two quarters, with the fund selling off a noteworthy 43% of its shares . The concern with Teva going forward is the introduction of generic competition to Copaxone, a multiple sclerosis drug that composes over 20% of the company's total revenue. Although Teva upped its guidance in the third-quarter because it believes generics won't enter the market before year's end, the fact still stands that this event will happen eventually.
On the bright side, Teva might be able to blunt the impact of generics by switching patients to a double dose formulation of the drug administered only three times a week. Time will tell if this strategy works out.
Should investors follow Soros on these dividend stocks?
While it's always a good idea to know whether institutional investors are buying or selling a stock you own, I think it's important to keep in mind that their reasons for doing so may have little to do with the business prospects of any individual company. A closer look at these three dividend stocks, however, does show that they are facing some difficult headwinds in the not-so-distant future. Moreover, they all appear to have benefited from the rising tide phenomenon across the stock market in general, and healthcare sector in particular. So I have to side with Soros here personally — I don't see any compelling opportunities with these three stocks.
1 great healthcare stock to buy for 2015 and beyond
Health care stocks soared in 2014, and 2015 is shaping up to be another great year for stocks. But if you want to make sure you're buying one of the best health care stocks, ;you need to know where to start. That's why The Motley Fool's chief investment officer just published a brand-new research report that reveals his top stock for the year ahead. To get the full story on this year's stock — completely free ;– simply click ;here .
The article George Soros Is Dumping These 3 Dividend Stocks: Should You? originally appeared on Fool.com.
George Budwell owns shares of Gilead Sciences. The Motley Fool recommends Gilead Sciences, Johnson & Johnson, and Teva Pharmaceutical Industries. The Motley Fool owns shares of Gilead Sciences and Johnson & Johnson. Try any of our Foolish newsletter services free for 30 days . We Fools may not all hold the same opinions, but we all believe that considering a diverse range of insights makes us better investors. The Motley Fool has a disclosure policy .
Copyright © 1995 – 2014 The Motley Fool, LLC. All rights reserved. The Motley Fool has a disclosure policy .
The views and opinions expressed herein are the views and opinions of the author and do not necessarily reflect those of The NASDAQ OMX Group, Inc.
See original article: 
George Soros Is Dumping These 3 Dividend Stocks: Should You?