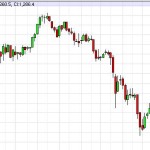 Get Forex buy/sell signals directly to your email and by SMS.
The gold markets fell initially during the week as you can see, but the $1250 level offered enough support to push his market higher and form a nice looking hammer. This hammer of course does suggest that the market is going to rise from here, and perhaps aim towards the $1350 level, or even the $1400 level. This market looks like one that could be trying to form some type of base in this general region, especially considering that there are a lot of questions as to what the Federal Reserve can do about tapering off of the quantitative easing.
The new Federal Reserve Chairperson Janet Yellen is known as being very dovish, and as a result we should see the US dollar weaken over time. The longer-term trader should be able to profit quite nicely off of the depreciation of the US dollar, and the appreciation of gold and other precious metals in general. Sooner or later, traders will look to buy certain types of commodities simply to store value in the meantime.
The $1400 level will be resistive though, so if we can get above there it's a very positive sign for the market, and as a result a daily close above the $1400 level really could put some momentum in this marketplace. We do not like the idea of selling this market right now, because the $1200 level below looks so massively supportive, just as the $1250 level above it does. In fact, we think that breaking down below the $1200 level is what's going to be needed to start selling anywhere near this price, and if we get that we should see this market falling all the way down to the 1000 level which of course was a massive breakout years ago.
Pay attention to the Federal Reserve, as we know that tapering off of quantitative easing would strengthen the US dollar drastically, and will work against the value of gold. However, we have not had enough positive and strong jobs reports numbers out of the US in order to see that happen. Because of this, we believe that the gold market should continue to go higher sooner or later.
Source:  
Gold forecast for the week of November 18, 2013, Technical Analysis
See which stocks are being affected by Social Media