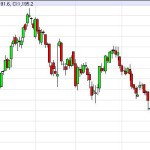 Get Forex buy/sell signals directly to your email and by SMS.
Gold markets fell below the $1200 level during the session on Thursday, triggering what could be a longer-term signal. We believe that if the $1200 level was broken, that the market would continue lower, probably as low as $1000 before it was all said and done. Granted, is going to take quite a bit of time to get down to that area, but the gold markets have been absolutely pummeled for the last two or three months. The merciless beating that the gold bugs have taken certainly is starting to hurt, and on the longer-term charts the real support isn't found until we get to the $1000 level where we would have a significant and massive amount of support. Because of this, we think the next couple of months are going to be very poor for the gold market.
If this market gets a bit of a bounce, it will more than likely offer a nice selling opportunity, and we should continue to see weakness going forward. Because of this, we are sellers every time this market rallies and shows any type of resistance in the general vicinity. Resistive candles are the signs not only to sell, but to probably take out larger than usual position, simply because there is "blood in the water" now, and the sharks are definitely out.
The mother of all bounces will probably be found at the $1000 level, so we would be taking profits shortly before we hit that area. However, there should be plenty of time to continually sell gold between here and there, and perhaps even dabble in the options markets as well. The US dollar should continue to appreciate based upon the fact that the Federal Reserve is starting to taper off of quantitative easing slightly, and as a result gold markets will more than likely pay the price. Commodities in general could be weak, but gold and silver both could be especially sensitive to the fact of tapering. It is not until we get back above the $1260 level that we see the opportunity to start buying gold again.
Original link: 
Gold Prices Forecast December 20, 2013, Technical Analysis » Fx …
See which stocks are being affected by Social Media