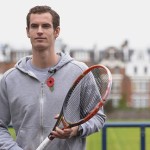 Graphene is already used in tennis rackets, with future applications including aircraft bodies and membranes for DNA sequencing. Photograph: Shaun Botterill/Getty Images for HEAD
A British firm which has found a way to produce industrial quantities of graphene, the wonder material expected to revolutionise the fields of medicine and manufacturing, saw its share price rise 40% during its stock market debut on Wednesday.
Shareholders piled in to buy a slice of Applied Graphene Materials (AGM), which is based in Cleveland and was spun out of Durham University, in a float that was more than two times oversubscribed.
Graphene, a substance isolated by Nobel prize-winning scientists at the University of Manchester in 2004, is a one-molecule-thick layer of graphite that is 20 times stronger than diamond and conducts electricity 20 times better than copper. It has already been used in tennis rackets and future applications range from aircraft bodies to membranes used in DNA sequencing.
Graphene is difficult to make in large quantities, but AGM, which raised £11m by selling a 42% stake, has found a way to mass produce the material in powder and is working with companies including Dyson and Procter & Gamble to develop commercial uses for the material.
"This funding will allow us to begin the next phase of development and to strengthen relationships with our partners," said chief executive John Mabbitt. "Applied Graphene Materials is now well positioned to meet the growing global appetite for graphene as a wonder material of the 21st century."
The float on London's Aim market for smaller companies saw shares pop from the initial placing price of 155p to 216p by the close of the first day's trading, valuing the company at £36m. AGM is forecast to become profitable in 2017.
Founder and technical director Karl Coleman, professor of inorganic chemistry at Durham University, retains a 10% stake, having reduced his holding from 24% before the float. Early backer IP Group, which invests in patent-based businesses, has reinvested and retains a 20% stake.
AGM will use the capital raised on Aim to expand the capacity of its Teesside production facility from one tonne a year to eight over the next 18 months. The company's 10-strong workforce will also increase, with engineers and scientists recruited to develop commercial applications for its products.
Most graphene production relies on natural supplies of graphite, which has to be mined, but AGM has found a way to produce it using carbon atoms sourced from ethanol. Its product can then added to resins, plastics, oils and lubricants.
Dyson wants to use graphene in the plastic casing for its vacuum cleaners, because of its strength, and because its ability to conduct electricity reduces static, which in turn helps the machine suck in more dust.
Added to paints, graphene could help protect the hulls of boats from rust and, as a dry lubricant, reduce drag as the ship moves through water.
While the UK pioneered the discovery of graphene, Asian companies have made the greatest efforts to commercialise it, with electronics giant Samsung leading the way.
"We [the British] are good with the initial materials, but other people are better at seeing applications … We have to be careful with graphene, otherwise it is one of those things that we just let go," said Mabbitt.
View the original here: 
Graphene producer's shares jump by 40% in market debut …
See which stocks are being affected by Social Media