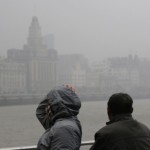 A tourist with a protective mask watches the buildings at the Bund under heavy haze in Shanghai, China, this morning. Photograph: Eugene Hoshiko/AP
Good morning, and welcome to our rolling coverage of event across the financial markets, the world economy, the eurozone and the business world.
There's an cautiously optimistic mood in the stock markets this morning, after the latest Chinese trade data showed a surge in exports last month.
European stock markets are inching higher on a dank morning in London, with traders warmed by the news that China's trade surplus swelled to its highest level in almost five years.
The Chinese surplus rose to $33.8bn in November, from $31.1bn in October.
It was driven by a 12.7% bounce in exports, to $202.2bn, which is bolstering hopes that global demand is picking up as Christmas approaches.
As Louis Kuijs of RBS put it:
There are signs that the global activity and trade cycle is gaining momentum, driven by the recovery in high income countries.
There's also lingering optimism that America's labour market is picking up, after Friday's jobs data (non-farm payroll) beat forecasts.
Imports, though only rise 5.3% year on year – thus the increased surplus. That suggests there is only limited progress in rebalancing the Chinese economy towards consumption.
Ma Xiaoping, an HSBC economist, commented:
"Imports were disappointing. Domestic demand is still tepid."
A wider Chinese trade surplus is likely to antagonise those US politicians who claim Beijing is deliberately skewing the global trade playing field with an unfairly weak currency. But right now, the rise in exports is taking the spotlight.
Patrick Latchford at Monex Capital Markets comments:
That upbeat payroll reading from the US on Friday and some healthy trade figures out of China have combined to make it an impressive start to the week for Asian equities.
The Japanese Nikkei has already surged 2.2% overnight, with stocks rallying as the yen weakened against the dollar.
Nikkei over last three months, to December 9 Photograph: /Thomson Reuters
That comes after Japanese growth for the last quarter was downgraded overnight, from 0.5% to just 0.3%. This could trigger another stimulus package from Tokyo.
Spain's IBEX is the best performer in Europe, up 0.4%, with the other indices all up in early trading.
A calm start to the day then. I'll be tracking all the developments, including the latest situation in Greece and reaction to the political news out of Italy — that Matteo Renzi, mayor of Florence, has won the race to lead Italy's center-left Democratic Party…..
View article: 
Greek deflation accelerates; Carney calls for vigilance on house …
See which stocks are being affected by Social Media