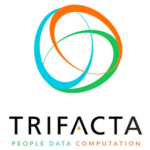 For all its hype as a potential panacea for companies everywhere, Big Data isn't necessarily useful data. All the analysis in the world isn't helpful if, in the end, you can't figure out what your data actually indicates. Gleaning information by interpreting and recognizing patterns in the data, and then deciding on a course of action, is sort of hard.
That problem is the basis of research by Joe Hellerstein, a computer science professor at the University of California at Berkeley, and Jeffrey Heer, a professor in the Human-Computer Interaction research group at Stanford University. Together, they have sought to make analysis of data easier and more accessible.
The result is the startup company Trifacta, which today announced that it had landed a $12 million Series B round led by Greylock Partners. It's also the first investment for Joseph Ansanelli, who joined Greylock as a general partner last year.
In an interview, Ansanelli said that, after joining Greylock, he spent a lot of time at Cloudera, the fast-growing company that has built a thriving business around Hadoop, the open-source big-data platform. "The main thing that people are trying to do with Hadoop is data analytics," he said. "Then I got introduced to the guys at Trifacta, who are trying to turn that data into something that everyday people can use. It was a total no-brainer to get involved with the company."
Ansanelli said that about 60 percent to 80 percent of the time and effort of getting data analysis done is transforming the resulting data into a format that people can read and understand. "If you can flip that around so that you're spending 60 to 80 percent on the analysis, that would be a huge gain in productivity," he said.
Trifacta's platform helps users visualize data and then twist it this way and that. Over time, the system applies machine-learning techniques to better understand what users are looking for. The goal is for data scientists to start gaining new moneymaking business insights faster.
The round brings Trifacta's total funding to $16.3 million. Accel Partners led its Series A last year.
View this article:
Greylock Leads $12 Million Round for Big Data Startup Trifacta – Arik …