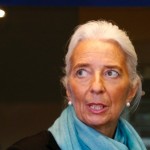 Christine Lagarde, who said the IMF will raise its forecast for US growth . Photograph: FRANCOIS LENOIR/REUTERS
Good morning, and welcome to our rolling coverage of events across the world economy, the financial markets, the eurozone and the business world.
And a rather quiet morning it is too. Especially in London where workers who haven't clocked off for Christmas may struggle to reach their desks – as our train companies brace for bad weather.
But there's still optimism in the financial markets, with shares rallying in Asia and Europe after the International Monetary Fund said it would raise its forecast for US growth in 2014.
Speaking on US TV yesterday, IMF chief Christine Lagarde said America's economy was picking up.
"Growth is picking up. And unemployment is going down. So all of that gives us a much stronger outlook for 2014, which brings us to raising our forecast.
The IMF had been predicting that the US economy would grow by 2.6% next year. That forecast may now be too pessimistic, after growth for the last quarter was revised higher to a frisky 4.1% annual rate.
The main indices in Asia all rallied overnight, pushing the MCSI index of major Asian shares up 0.4% today.
Chris Weston of IG reports from Melbourne:
Asia-based traders started the week on a positive footing as US markets continue to look strong while improving economics re-enforced the view that developed market growth in 2014 will be driven predominantly by the US.
Taiwan's stock market hit its highest level in two months. It was driven by news of a major deal between Apple and China Mobile, that should benefit Taiwanese firms who supply components.
The mini-rally comes despite an ongoing cash crunch in China.
China's interbank borrowing costs (how much banks charge to lend to each other) spiked to a fresh six-month high this morning, despite last Friday's emergency cash injection by the central bank.
The seven-day repo rate, which measures short-term liquidity in the banking system, nudged 9.8% today, which is the highest level since June 20 (via CNBC).
Analysts say there's no reason to panic, saying seasonal factors are making banks more reluctant to lend.
Lorraine Tan, director of equity research at S&P Capital IQ, explained to CNCBC that the People's Bank of China may need to take more action:
I think it's just a momentary thing…it's a seasonal issue, a rush for cash.

Definitely the PBoC [People's Bank of China] needs to pump in more money which it has been doing, but a little bit more is probably necessary.
Certainly one to watch, as the PBoC tries to tighten policy and prevent a credit boom running out of control.
More to follow through the day…..
Source article:  
Growth hopes push shares higher; bribery investigation at Rolls …
See which stocks are being affected by Social Media