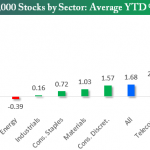 Small Cap Health Care & Biotech Leading The Way In 2015 Thus Far
Health Care/Biotech Names Still Dominating
The average stock in the Russell 3,000 (which makes up roughly 98% of US-listed stocks) is now up 1.68% in 2015. Below we have calculated the average year-to-date performance of stocks by sector. As shown, Health Care (XLV) (IBB) stocks are up by far the most with an average YTD gain of 8.06%. Technology (XLV) stocks are up the second most at just +2.29%, followed by Telecom at +2.14%. Health Care, Technology and Telecom (IYZ) are the only three sectors outperforming the average stock in the Russell 3,000 as a whole this year. The average stock in the other seven sectors is underperforming. Leading the way on the downside is Utilities (XLU), with the average stock down 1.38%. The average Financial (XLF) stock is down 0.63%, while the average Energy (XLE) stock is down 0.39%.
In the chart below, Health Care is the one true standout on the upside. In 2014, it was Health Care and Utilities leading the way higher, but so far this year, Health Care stocks have continued higher, while Utilities stocks have faltered.
Below is a list of the 30 best performing stocks in the Russell 3,00 year-to-date. As you can see, the bulk of the stocks on the list are from the Health Care sector. In fact, the top 6 names and 20 of the top 30 are in Health Care stocks, with most in the wildly-hot Biotech group. Egalet (EGLT) and Foundation Medicine (FMI) are the two names up more than 100%.
While it's nice to see a bunch of Health Care stocks with big returns this year, some investors want to see stocks in other sectors that are doing well. In this regards, below is a list of the 30 best performing non-Health Care sector stocks in the Russell 3,000 year-to-date. The two names on the list that are the most widely followed are probably Netflix (NFLX) and Twitter (TWTR). NFLX is up 38% in 2015 while TWTR is up 35%.
Courtesy of bespokeinvest.com
Link to original: 
Health Care & Biotech Leading The Way In 2015 Thus Far
See which stocks are being affected by Social Media