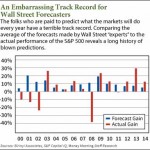 Trusting Wall Street stock market predictions is really hazardous to your portfolio's health.
In particular, the annual Wall Street stock market predictions made by top strategists are so inaccurate, using a blindfold and a dartboard could do better.
These richly paid folks work for such financial behemoths as JPMorgan Chase & Co. (NYSE: JPM), Goldman Sachs Group (NYSE: GS), CitiGroup Inc. (NYSE: C), and Morgan Stanley (NYSE: MS). But few working Americans could get away with botching their jobs as badly as this bunch and still have jobs.
Collectively, the forecasts of these "experts" over the past 15 years have been off by an average of 14.7 percentage points a year.
That's worse than if they'd simply guessed the long-term average return of 9% every year. In that case, their forecast would have missed by an average of only 14.1 percentage points each year.
It's pathetic. But it gets worse.
Since 2005, independent economist Fritz Meyer has tracked the performance of Wall Street stock market forecasts that appear each December in Barron's. What he finds is consistently ugly.
For 2014, six out of 10 top strategists predicted the utilities sector would be among the worst-performing. By Dec. 31 it was the best, rising 24% on the year.
At the start of 2013, five of the 10 top strategists said the consumer discretionary sector would slump. Instead, that sector was the No. 1 performer, soaring 41%.
While those are the most egregious examples, failure is par for the course. In both 2011 and 2012, the strategists were wrong on six out of 10 sectors. Over the past nine years, Meyer has found much of the same.
"There is not one year in which, on balance, the strategists did well. They have consistently fallen far short of being able to beat the Standard & Poor's 500 with their sector calls," says Meyer in an article on his website.
But as awful as these Wall Street stock market predictions are, another element makes them downright dangerous – especially to retail investors…
This article is from: 
Here's How Wrong Wall Street Stock Market Predictions Are – Money …