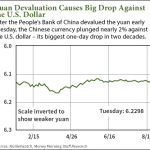 The Chinese central bank would never admit it, but China's stock market crash surely weighed on its decision today to devalue the yuan.
The news had an immediate impact, with the yuan falling nearly 2% against the U.S. dollar. It marked the biggest one-day plunge since 1994.
Because of the way the yuan is controlled by the People's Bank of China (PBOC), the devaluation of the yuan wasn't achieved by lowering interest rates – the way most central banks would do it.
You see, the PBOC had confined the yuan's value to a 2% range above or below the U.S. dollar, called the "daily fixing." Now the PBOC will let the yuan trade a bit more freely, basing the yuan's value on its close from the previous trading session.
The PBOC said the reason was to make the yuan's value more market-based. That's something that the International Monetary Fund (IMF) has urged as China seeks to get the yuan elevated to the status of a world reserve currency.
But the timing of the move suggests that China's stock market crash also has played a role. A combination of weakness in the Chinese economy and risky investing practices, particularly margin trading, lopped as much as 32% from the Shanghai Composite Index from June to July, and it's still down 24% from the high.
Concerns about the health of the Chinese economy – and the markets – rose when the government reported over the weekend that the nation's July exports plunged 8.3% from the previous year. The Chinese government also reported that inflation rose only 1.6% in July – about half of the government target of 3%.
The lousy economic data drove the PBOC to reverse its resistance to loosening its grip on the yuan, something the IMF, other central banks, and the U.S government have urged for years.
The Yuan Devaluation a Tool to Stem China's Stock Market Crash
Continue reading here:
How China's Stock Market Crash Influenced Today's Yuan …