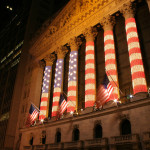 More than five years after the credit meltdown began and the worst financial crisis since the Great Depression crippled the nation, stocks have rebounded sharply to new all-time highs. However, with the Federal Reserve often receiving most of the credit for the rally, many Americans do not view the stock market as a wealth creator.
The financial bubbles of yesteryear still haunt Americans. Only 37 percent of U.S. investors believe the stock market is an "excellent" or "good" strategy for average Americans to grow their assets, according to a recent survey from Gallup. Meanwhile, 46 percent say it's "only fair," and 16 percent call it "poor." The survey is based on adults with at least $10,000 in savings or investments.
Interestingly, wealthier investors are more upbeat about the stock market as a wealth generator. Half of those polled with at least $100,000 in investable assets believe stocks are an "excellent" or "good" strategy for wealth, compared to only 27 percent of respondents with less than $100,000.
This article is from:
How Much Do You Trust the Stock Market? – Wall St. Cheat Sheet
See which stocks are being affected by Social Media