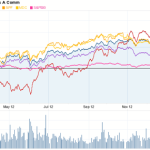 Homebuilders have been on everyone's radar lately, and for a good reason: They have been outperforming the S&P500 by a wide margin. The good news is that the rally has been propelled by an improvement in the industry and company fundamentals. The bad news is that the last time the sector was on everyone's radar was 2007. We all know what happened to the sector shortly after. Does it men that investors should stay away from the sector?
It depends on the profile of different investors. Conservative investors may want to take some profits here, especially if they did get in early. Aggressive investors may want to stay with the sector, as the fundamentals of the industry continue to improve. Home prices, for instance, rose by 5 percent in November, as inventories of unsold homes are at record low. Mortgage rates continue to stay below 4 percent, while unemployment rate is below eight percent. Lennar (LEN) and DR. Horton (DHI) have reported record revenue, earnings, and new order growth; and are trading at reasonable valuations. Most notably, short interest is still high for the sector, especially for Hovnanian (HOV) — 53 percent of the float — and Standard Pacific (SPF) — 33 percent of the float, indicating that they are still doubters who may end up pushing these stocks higher, should the fundamentals continue to improve.
Company
Forward PE
Operating Margins
Qtrly Revenue Growth (yoy)
Earnings Growth (yoy)
Lennar (LEN)
18
9.97%
41.40
310.70
DR Horton
17.28
5.98
21.70
179.60
MDC Holdings (MDC)
28.55
1.22
58.10
—
M/I Homes (MHO)
23.30
23.21
47.50
—
Hovnanian
12.14
6.20
42.6
—
Standard Pacific
29.24
5.72
32
—
Source: Yahoo.finance.com
A word of caution: Homebuilders and materials suppliers are highly economically sensitive sectors. This means that an economic slow-down could hurt the sector, especially if it results in a slow-down in employment growth or a spike in mortgage rates-the most important drivers of home demand.
Source:
How To Trade The Homebuilder Stocks
Disclosure: I am long DHI, MDC, HOV, LEN, SPF. I wrote this article myself, and it expresses my own opinions. I am not receiving compensation for it (other than from Seeking Alpha). I have no business relationship with any company whose stock is mentioned in this article. (More…)
SymbolPrice% ChgRemove
–
–
–
–
–
–
–
–
–
–
–
–
–
–
–
–
–
–
–
–
This article was sent to
people who get email alerts on
.
Get email alerts on »
This article was sent to
393,810
people who get the Investing Ideas newsletter.
Get the Investing Ideas newsletter »
The #1 Portfolio App is Now on iPad!
Get instant notifications & never miss a critical update on your stocks!
Which Seeking Alpha App is best for you?Seeking Alpha PortfolioTech InvestorETF investorEnergy InvestorEmail me a link to open from my phone:ContinueGet the app »Get the app »
PORTFOLIO
SymbolAlertsPriceChg% ChgAdd Stocks
people received this article by email alert

Add your email to get alerts on too:
Get email alerts on »
This article was sent to
393,810
people who get the Investing Ideas newsletter.
Get the Investing Ideas newsletter »Tagged: Investing Ideas
,
,
,
Share this article with a colleague
See original article: 
How To Trade The Homebuilder Stocks [Hovnanian Enterprises, Inc …
See which stocks are being affected by Social Media