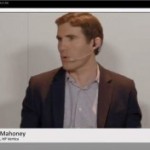 In his latest appearance on theCUBE at last week's Discover summit in Barcelona, Colin Mahony, VP and GM of HP Vertica, shared how the database maker fits into Hewlett-Packard's analytics strategy.
After being acquired by HP in March 2011, Vertica gained access to hardware, service expertise and channel resources that enabled it to expand into global markets, Mahoney tells hosts John Furrier and Dave Vellante. The buyout also helped the firm make gains against traditional vendors with disruptive capabilities like Hadoop integration and Flex Zone, a recently introduced feature that makes it significantly easier for customers to store different types of data.
Vertica is central to Hewlett-Packard's converged infrastructure roadmap and constitutes a core component of HAVEn, an integrated Big Data platform that was unveiled at the previous Discover event. These different offerings are all the result of close collaboration between Mahoney's team and other divisions at HP, which he says is made possible thanks to the efforts of CEO Meg Whitman.
"The communication that comes from the top and works throughout all the regions, all the product groups in this organization, has been tremendous," he details. "What happens is when you get that communications, groups start working really well together, and I think that was a historical challenge of HP, getting the business units to work together. And now we come up with joint solutions around HAVEn, around appliances, focusing on some vertical markets with what they're trying to achieve with Big Data," he says.
Hadoop is another top item on the agenda, Mahoney continues, but HP is careful not to put all of its eggs in one basket. The company supports distributions from Cloudera, Hortonworks, MapR and Intel, as well as the vanilla Apache version, to give customers the freedom to choose the best solutions for their use cases. This open approach, along with Vertica's push to attract developers and foster the partner ecosystem, all fit into the big picture of helping users drive better insights.
"For me, it's number one, make it easy to get the data in – FlexZone and Vertica 7 does that. Number two, do a lot more with the data once it's in there – so store, explore, analyze it in more ways. And number three, deploy it anywhere, and that's the cloud, it's the appliance, it's software only," Mahoney says. "We gotta mix it up and make sure that people can consume it."
Watch the full interview for more on Vertica and the threat to traditional data warehouse vendors.
About Maria Deutscher
Maria Deutscher is a staff writer for SiliconAngle covering the enterprise cloud space. If you have a story idea or news tip, please send it to @SiliconAngle on Twitter.

View all posts by Maria Deutscher
Original article – 
HP Vertica boss on Big Data and innovation | #HPDiscover …