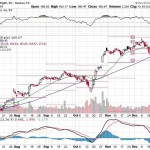 Summary
There has definitely been a sector rotation out of biotech stocks and into the consumer goods names that pay high dividend yields.
Amgen remains fairly valued based on 2015 earnings estimates.
The dividend is small but investors received a 29.5% increase to the dividend in the next quarter.
The last time I analyzed Amgen Inc. (NASDAQ:AMGN) on November 25, 2014, I stated, "More than likely I'll be waiting till 2015 to buy any more batches in the name, because it has run up just too high in such a short time." Since the article was published the stock has decreased 2.14% versus the 0.63% gain the S&P 500 (NYSEARCA:SPY) posted. The stock dropped as low as 4.05% and I haven't bought any shares in the meantime. Amgen is a global biotech company (the first of its kind) which discovers, develops, manufactures and delivers human therapeutics.
On October 27, 2014, the company reported third-quarter earnings of $2.30 per share, which beat the consensus of analysts' estimates by $0.19. In the past year, the company's stock is up 40.9% excluding dividends (up 42.8% including dividends) and is beating the S&P 500, which has gained 14.52% in the same time frame. Since initiating my position back on May 28, 2013, I'm up 42.08% inclusive of reinvested dividends and dollar cost averaging. With all this in mind, I'd like to take a moment to evaluate the stock to see if right now is a good time to purchase more for the healthcare and dividend sector of my portfolio.
Fundamentals
The company currently trades at a trailing 12-month P/E ratio of 25.3, which is fairly priced, but I mainly like to purchase a stock based on where the company is going in the future as opposed to what it has done in the past. On that note, the 1-year forward-looking P/E ratio of 17.22 is currently fairly priced for the future in terms of the right here, right now. The 1-year PEG ratio (3.03), which measures the ratio of the price you're currently paying for the trailing 12-month earnings on the stock while dividing it by the earnings growth of the company for a specified amount of time (I like looking at a 1-year horizon), tells me that the company is expensively priced based on a 1-year EPS growth rate of 8.36%. In addition, the company has great long-term future earnings growth potential with a projected EPS growth rate of 11.14%. Below is a comparison table of the fundamental metrics for the company for when I wrote all articles pertaining to the company.
Article Date
Price ($)
TTM P/E
Fwd P/E
EPS Next Year ($)
PEG
EPS Next Year (%)
19Aug13
104.91
17.63
12.67
8.28
1.5
11.69
21Nov13
112.25
17.76
13.81
8.13
1.97
9.03
17Feb14
123.84
18.65
14.21
8.71
2.65
7.03
24Apr14
113.72
17.13
13.05
8.72
2.47
6.94
21Jul14
119.03
19.32
13.61
8.74
2.40
8.04
06Sep14
137.88
21.11
15.37
8.97
3.12
6.77
25Nov14
162.43
25.86
17.67
9.29
3.23
8.01
25Dec14
160.67
25.30
17.22
9.33
3.03
8.36
Financials
On a financial basis, the things I look for are the dividend payouts, return on assets, equity and investment. The company pays a dividend of 1.52% with a payout ratio of 38% of trailing 12-month earnings while sporting return on assets, equity and investment values of 7.1%, 20.7% and 10.5%, respectively, which are all respectable values. Because I believe the market may get a bit choppy here and would like a safety play, I don't believe the 1.52% yield of this company alone is good enough for me to take shelter in for the time being. The company has been increasing its dividends for the past 4 years. Below is a comparison table of the financial metrics for when I wrote all articles pertaining to the company.
Article Date
Yield (%)
Payout TTM (%)
ROA (%)
ROE (%)
ROI (%)
19Aug13
1.79
27
8.6
23.2
10.8
21Nov13
1.67
30
9.0
24.0
10.8
17Feb14
1.97
37
8.9
24.2
10.5
24Apr14
2.15
37
8.9
24.2
10.5
21Jul14
2.05
40
7.8
21.7
10.5
06Sep14
1.77
37
7.7
22.0
10.5
25Nov14
1.49
38
7.1
20.7
10.5
25Dec14
1.52
38
7.1
20.7
10.5
Technicals
Looking first at the relative strength index chart [RSI] at the top, I see the stock in middle-ground territory with a current value of 46.95. I will look at the moving average convergence-divergence [MACD] chart next. I see that the black line is below the red line with the divergence bars decreasing in height which tells me bearish momentum is in the name. As for the stock price itself ($160.67), I'm looking at $163.09 to act as resistance and the 50-day simple moving average (currently $158.93) to act as support for a risk/reward ratio which plays out to be -1.08% to 1.51%.
More Products In The Pipeline
Amgen has teamed up with Merck to battle melanoma. The couple have tag-teamed to perform a study on the safety and efficacy on Amgen's talimogene laherparepvec and Merck's Keytruda combined. The study will be done in two phases and will use about 110 patients. Amgen continues to be my favorite biotech stock mainly because it pays the dividend and has lots of shots on goal.
Conclusion
Biotech stocks have been thrashed of late due in part to sector rotation into high yielding consumer goods stocks and also in part for competition among other companies. Amgen and Regeneron are about to go head to head on pricing for cholesterol products which is partly the reason why Amgen dropped so much during this past week. Fundamentally, I believe the company to be fairly valued on next year's earnings estimates but expensive on earnings growth potential while having earnings estimates increased by 0.4% since the last time I wrote about the company. Financially, the dividend is small and does have much room to grow. On a technical basis, the risk/reward ratio shows me there is more reward than risk right now. Having done this analysis, I'm going to hold off on buying the stock until the carnage in the biotech sector has subsided.
Disclaimer: This article is in no way a recommendation to buy or sell any stock mentioned. This article is meant to serve as a journal for myself as to the rationale of why I bought/sold this stock when I look back on it in the future. These are only my personal opinions and you should do your own homework. Only you are responsible for what you trade and happy investing!
Source:
I'm Waiting Till The Carnage In Biotech Stocks Subsides To Buy Amgen
Disclosure: The author is long AMGN, SPY. The author wrote this article themselves, and it expresses their own opinions. The author is not receiving compensation for it (other than from Seeking Alpha). The author has no business relationship with any company whose stock is mentioned in this article. (More…)
Read More – 
I'm Waiting Till The Carnage In Biotech Stocks Subsides To Buy …