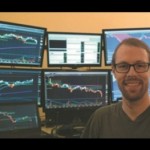 UPDATE – Video archive now available for viewing!
Next Monday night, 8 PM EST, on my Ticker.tv channel StockJunkie, I am going to have the pleasure of interviewing Ross Cameron of DayTradeWarrior.com.
When someone referred me to Ross Cameron's year end results for 2014, I immediately took an interest. From his blog post, Ross finished the year with a total profit of +$220,346.69.
Based on his starting portfolio size for the year of approximately $150,000, Ross's $220,346.69 return equates to a +146.9% return. Impressive.
I've never spoken with Ross prior so this so am excited to learn more about him and his personal investing. How did Ross get his start in the market? What strategies does he use? What lessons has he learned along the way?
These are all questions I will be asking Ross, not to mention learning more about his education courses, mentor program, trade alerts service, and other member services.
Thanks to the Ticker.tv chat room accompanying each broadcast, you too can participate and ask Ross questions live.
So tune in next Monday January 12th, 8 PM EST, on my Ticker.tv channel StockJunkie, and join me for an open night of learning from professional trader Ross.
Originally posted here:
Interviewing Pro Trader Ross Cameron Monday Jan 12th 8 PM EST …